Super-Insulated House Heats For Under $100/Yr
Super-insulated, air-tight homes that require almost no outside source of heat to stay warm, even during long Canadian winters, are the wave of the future, say Saskatchewan builders who've constructed some of the first "conservation" houses anywhere.
In Montana, Dave and Marcia Borst, of Butte, live in a super-insulated home built by Buffalo Homes, also of Butte. They've spent $5 for heat since last February.
"If it's cool in the morning when I get up, I bake a batch of cookies or a loaf of bread. That's enough to warm the house to 68 or 70?F. A boiling tea kettle will take the chill off most mornings," says Marcia Borst. However, she notes that in the summer "you have to be careful to bake in the morning or at night. You have to plan for the heat gain."
The Borsts say the house is extremely quiet and draft-free. They suggest that a super-insulated home might be especially suited for anyone with allergies, such as hay fever, if care is taken to keep the allergy-causing materials out.
David Eyers, construction engineer for an experimental building project in Regina, Sask., told FARM SHOW that they've been able to build conventional looking super-insulated homes that operate with heating bills of less than $100 per year without any kind of solar heat, wood-burner or other alternative heat source. The houses are so tight that they're heated with only the body heat of people, cooking, hot showers, baths, laundry, and other activities that generate heat.
"The conservation house is based on several principles," says Eyres. "It must be highly insulated, have an airtight vapor barrier, adequate ventilation, a heat exchanger and be built to capture the sun's heat without using special equipment.'
Here are the details on each feature:
Insulation: A 2-story wood frame house with a crawl space should have double studded walls with 12 in. of insulation and ceilings with about 20 in. The crawl space should be insulated to an R-value of 35 and the underside of the basement floors should have an R-value of 10. Those values are about double, or more, those of a conventional house.
Vapor barrier: A layer of 6 mil. polyethylene is placed between the inside and outside walls. Special techniques developed by the Canadian National Research Council, the project's sponsors, make it possible to achieve a near-perfect airtight seal, even around windows, doors and vent pipes. In conventional construction, the vapor barrier has many gaps and holes for air to leak through.
Ventilation: In the conservation house, one complete change of air takes place very six hours, compared to a change of air every two hours in a conventional house. By having less outdoor air to heat, energy use is reduced 65%. The system can be stepped up to exchange 80% of the air every hour, if necessary.
Heat exchanger: This is the "furnace" in the conservation house. It collects the stale warm air in the house and forces it out, at the same time drawing in cool air. But the key point is that all cold air that comes in through the heat exchanger is warmed by the- stale air going out. Eyers says the exchanger recovers 70% of the heat in the exhausted air.
Passive solar heat: The house is oriented to the south to catch the sun, is painted brown to absorb heat, and 90% of the window space is on the south side.
Eyres mentioned some other details that create the optimum energy-efficient house: "The conservation house is a 2-story, cubical structure which exposes a minimum of exterior per square foot of floor space. It also has deciduous trees on the south side to shade out the sun in summer but let it come through in winter.
The average cost of a super-insulated house built in Saskatoon, Sask., in 1980 was $60,000, excluding the lot. A similar conventional house would have cost $55,000 according to Eyers.
How about using the super-insulation, concept on older homes?
"We bought six older houses in various styles and designs, and made them energy efficient," Eyres told FARM SHOW "Generally, the cost of converting an old house is much higher than building it into a new one. It could cost $10,000 to $15,000 with a contractor, and about one-third less doing it yourself."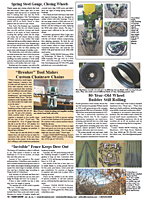 Click here to download page story appeared in.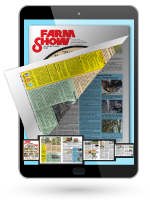 Click here to read entire issue
To read the rest of this story, download this issue below or click
here
to register with your account number.