1-Ton Pickup Pulls 50,000-Lb Loads
"It gets excellent mileage and rides like a Cadillac," says Eldon F Koethe, Dubuque, Iowa, about his 1974 Ford F-350 1-ton crew cab pickup that's equipped with dual tandem axles and is powered by a 354 cu. in. turbocharged, aftercooled Perkins diesel engine. He uses it to custom haul machinery on a home-built, 45ft. triple axle fifth wheel trailer that carries gross weights up to 50,000 lbs.
He bought the pickup for $3,000 seven years ago with 149,000 miles on it. He removed the box and mounted a fifth wheel hitch and 100-gal. gas tank behind the cab. There wasn't room for dual wheels between the pickup's frame and springs so he used 1 1/4-in. thick steel plates to move the wheels out. He removed the original gas engine and replaced it with the Perkins diesel engine from a Massey Ferguson 2705 tractor. The engine didn't fit under the hood so he used spacers to raise the cab 3 1/2 in. The engine has two turbochargers. An aluminum semi-truck radiator mounts in front of the grille and cools air coming out of the turbocharger before it goes to the engine.
He replaced the truck's original automatic transmission with two transmissions - a 5-speed transmission in front that's out of a Chevrolet C50 2-ton truck, and a Spicer 3-speed transmission salvaged from an old cement truck.
"I take it a lot to farm sales and right away everyone wants to look under the hood," says Koethe. "I paid only $600 for the engine and fuel injection pump and $400 for the radiator. The engine produced 120 hp when used in the tractor, but in the pickup, with the two turbochargers and the injection pump set on high, it has about 175 hp. I've put over 300,000 miles on it. One problem is that it has too much power for the rear end I've already knocked out three rear ends. It averages 9 to 10 mpg and, with the 100-gal. fuel tank, I can go about 1,000 miles before I have to refill. I mounted air bags under the tag axle in back so that I can regulate the amount of weight on the other axles. Putting more weight on the other axles provides improved traction whenever I pull into a muddy field. The tandem axles and soft pickup springs, along with the triple axles on the trailer, give it a very smooth ride.
"I had been using a Chevrolet C50 2 ton truck equipped with a 454 cu. in. gas engine to pull a gooseneck trailer. However, it lacked power and never averaged more than 3 mpg. One time while driving into the wind I was able to go only 78 miles on 40 gallons of gas. I spent $11,500 a year for gas but now I spend only about $4,000 a year for diesel fuel. Another problem with the 2-ton truck was that it rode rough. On long trips I got sick to my stomach from all the bouncing.
"The 3-speed Spicer tranmission together with the 5-speed provide 15 forward speeds and 3 reverse speeds. The Spicer transmission has underdrive, overdrive,ordirectdriveso I can do agood job of matching up speeds to rpm's. The overdrive really comes in handy when I need more power going up hill. I can change gears every 4 to 5 mph at high speeds.
"The two turbochargers really boost engine horsepower, especially at low rpm's."
Koethe mounted the aftercooled radiator on steel plates welded to the pickup's front bumper. Air from the radiator is transferred via pipes and hoses to the engine manifold. He mounted the exhaust pipe behind the cab and extended it 4 ft. in order to comply with state regulations and to keep exhaust smoke off machinery on the trailer.
Koethe spent about $4,000 to build his dovetail flatbed trailer, using steel beams and parts off International and Kewanee disk frames. "A comparable commercial trailer would cost about $16,000," says Koethe. "It's built heavy. I had been using a gooseneck trailer that tilted up or down hydraulically and had a winch on front to load implements. It was powered by a self-contained hydraulic pump mounted on top of the pickup's fuel tank. An oil reservoir was built into the neck of the trailer. However, I had trouble with broken springs, wheel bearings and the frame cracked so I built the new trailer."
Contact: FARM SHOW Followup, Eldon F. Koet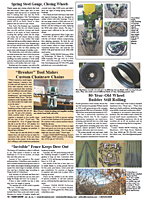 Click here to download page story appeared in.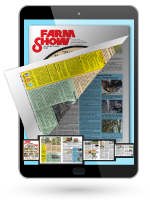 Click here to read entire issue
To read the rest of this story, download this issue below or click
here
to register with your account number.