Booming Demand For Rebuilt Corn Planters
Restoring old tractors has become an interesting hobby for numerous farmers and equipment dealers. However, most of their restored machines become collector's items, unused except for perhaps an occasional parade.
But the restoration work of Lorenz Elling, Swanton, Ohio, has a different purpose. He buys and reconditions corn planters, then sells them.
It all started about five years ago when Lorenz's doctor told him to quit farming. So, he rented out his farm, but refused to head for a rocking chair. Lorenz says he always enjoyed repairing machinery and decided to make that his retirement hobby. He was familiar with John Deere corn planters because he had been using them since 1939, and decided to concentrate on only that one line. The first year he repaired and sold 16 planters, the next year he sold 23, and by 1979 he was up to 30 planter sales. This year, he had already sold 28 reconditioned planters before the planting season started, and had "a couple dozen more" just waiting for buyers.
Says Lorenz, "I don't get into the real old models. Most of them are so worn out and obsolete that I don't want to bother with them. And, I stick strictly with John Deere plate-type planters. The plateless planters have a whole different set of parts and every one of them has to work just right or you don't have anything."
Lorenz buys used planters at farm auctions and from equipment dealers. During the summer and fall months, he strips down the planters, replaces worn gears and chains, and makes any major repairs to the frame, tongue, etc. In winter he works inside, reconditioning seed boxes, and fertilizer and chemical attachments.
Lorenz keeps a large supply of planter parts on hand and buys all his parts from a Deere dealer just 12 miles away. When he starts repairing units he works on one item at a time. He may spend several days on seed boxes, then turn to chemical attachments, etc. Because many parts are interchangeable between four and six-row planters, he will assemble a planter exactly the way a customer wants it. Many of his planters are sold with new seed boxes, new chemical and fertilizer attachments, new fur-• row openers and with any other broken or worn parts replaced.
But he cautions that you can't expect to buy several planters and cannibalize one or two to repair the others. The same parts wear out on each one. But sometimes he buys unrestorable planters and uses the wheels, tongue and other frame parts
for different planters.
Lorenz offers no warranty on his planters but insists they.are "as good as new and cost a lot less." He gives each one a new coat of paint and provides a new operator's manual with each.
When asked how much time it takes to restore a planter and how he sets prices, Lorenz answered: "I may spend a week on just one machine; The next one may only need a few hours of work. So, I guess I lose money on some and make a little on others." Some of his completely restored units have sold for one-third or less of the price of a comparable size new planter.
For anyone interested in such a hobby, he has some suggestions: First, pick a line of equipment you are familiar with, and that there's a market for. By working only with John Deere planters, he can reduce his parts inventory and take advantage of parts interchangeability between models.
For more information, contact: FARM SHOW Followup, Lorenz Elling, R. 1, Swanton, Ohio 43558 (ph 419 826-2181).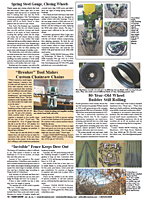 Click here to download page story appeared in.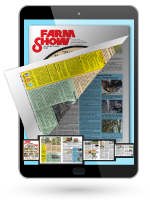 Click here to read entire issue
To read the rest of this story, download this issue below or click
here
to register with your account number.