Specialty Crops Require Special Marketing
When northeast Colorado dryland farmer Roy Pfaltzgraff decided to go no-till, diversify crop rotations, and forego fallowing fields for continuous cropping, he faced multiple challenges. In addition to crop and soil-related questions, there was a need for markets.
"When I came back to the farm in 2017, and we decided to diversify, my dad had one rule," says Pfaltzgraff. "He told me to plant what I wanted as long as it had a decent chance of profit, and I had a market lined up before it went in the ground." When Pfaltzgraff added buckwheat to the rotation that year, he found a potential buyer first. This year he planted 12 different crops on the farm's 2,000 acres. That's down from as many as 18 in recent years, and Pfaltzgraff had markets for each one.
When he started adding non-commodity crops, marketing directly to a food company or consumers wasn't easy. There were no local buyers for buckwheat, much less the multiple other non-commodity crops he added in the following years.
"I cold-called businesses and told them I was working on more diversity and raising such and such crops," recalls Pfaltzgraff. "I asked them what quantities they bought and what quality they required. A couple of companies decided to take a risk with us, and it's gone well."
Pfaltzgraff no longer has to cold call for markets. As the farm's reputation for non-commodity crops has grown, companies are now coming to him. His regenerative practices are one reason, noting that food companies want to work with farmers who are regenerating their soils. Another is quality control.
"We bought our own seed cleaner to ensure the beans and grains we sell are high quality," says Pfaltzgraff. "If they don't meet our quality standards, we won't sell them to food companies."
Pfaltzgraff says there's room for others to do what he has done. "We've had farmers and food companies out of Canada looking for 300 metric tons of buckwheat," he says. "I don't grow that much in 3 years."
He describes the transition the farm has gone through as mindboggling in terms of revenue. "We used to be break-even farmers," he says. "We've turned what once was gross revenue into net revenue. Last year, the harvest was a bust due to drought. We still broke even, thanks to carryover production from the previous year."
Regenerating the soil has paid multiple dividends. Not only does it help with marketing, but it has also reduced the need for fertilizer and other inputs.
"We've cut our expenses 75 percent from 2016, just in fertilizer and herbicides alone," says Pfaltzgraff. "Our farm has changed so drastically since then. We've added new storage bins and replaced or upgraded equipment. It's a completely different operation."
Grains, beans and other products go to contract buyers. He and his wife, Barb Sanborn, market the farm's products (honey from their bee colony, meat and eggs from their chicken flock, and baking mixes) at local markets and online. Packaged goods sold both online and at markets include biscuit, cookie, cornbread and pancake mixes, as well as pinto beans, black-eyed peas and more. All of it is gluten-free, designed to fit that fast-growing market.
Pfaltzgraff started looking for ways to share what he has learned. He works with a commodity group that helps farmers produce and market to food companies interested in soil health. He also gives presentations to groups of farmers on growing and marketing non-commodity crops.
Sanborn previously worked in the marketing communications business. She suggested another way to spread the story. What she envisioned was a workbook on marketing and soil health practices. The idea was something that could be shared as a leave-behind when Pfaltzgraff spoke to groups.
"We want to give others a way to think about the process, develop a plan and a story that will give them the success we've had," says Pfaltzgraff.
"What Do We Do Now, a Direct Marketing Workbook for Agricultural Entrepreneurs," will be finished this summer, hopefully in time for a presentation Pfaltzgraff has scheduled. It includes sections on mission statements, defining products, developing a story, a brand and more, among them the challenges a direct marketing farmer faces.
"Moving down the path to a different approach to farming and marketing can be a little uncomfortable," he says. "I know for a fact that our neighbors laugh at us. And yet, I go to soil health meetings, and everyone is eager to share and help."
Pfaltzgraff advises using social media to reach out to other farmers making the changes. "We have a section in the workbook on mental health and who you can talk to for support," he says. "Social media is a great lifeline to realize you're not alone."
Contact: FARM SHOW Followup, Pfaltzgraff Farms, 12189 County Road 7, Haxtun, Colo. 80731 (ph 970-466-1887; roy@pfzfarms.com; www.pfzfarms.com).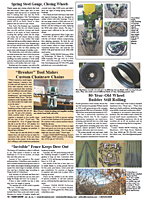 Click here to download page story appeared in.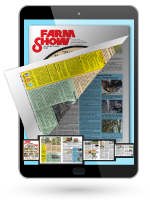 Click here to read entire issue
To read the rest of this story, download this issue below or click
here
to register with your account number.