Best Buy Backup Camera
Dan Tucker, Wasilla, Alaska: "After seeing the article in Vol. 46, No. 6 about a backup camera on a skid steer, I decided to share my experience. I put a much less expensive camera on my skid steer several months earlier, and it works great.
    "The camera in the article attached to the skid steer with magnets. Mine doesn't, but it was easy to install.
    "I bought a Veclesus VM1 wired backup camera kit. I paid less than $75 for it. The kit had everything I needed. It has a 4.3-in. monitor screen and a waterproof, high-definition backup camera with night vision and continuous or reverse-only viewing options.
    "It took me about an hour and a half to install and wire it. I used duct tape to secure the wires to the camera and power. The kit comes with a fuse box power cable and a car charger to plug into the cigarette lighter. However, the wiring harness in the cab is in the roof molding and is very accessible. I just tapped off of a circuit for the bucket controls.
    "I used silicone seal to mount the screen above the inside front window and centered on the window. I figured the silicone seal would handle the vibration, and it has for more than 50 hrs. of work with the skid steer. Using silicone seal also meant I didn't need to drill and tap the cab.
    "I wanted to mount the camera so it would be out of the way. Anything mounted to the rear door would be wiped off if you brushed a wall or tree. Instead, I screwed a short length of fairly thin, 1/2-in. angle iron to the cab, just above the curvature of the door. Then I mounted the lens attachment to the angle iron.
    "The camera has a 150-degree wide-angle view. To get an accurate picture of the width of the skid steer on the screen, I laid two straight edges alongside the tires of the skid steer and to its rear. When I got back in the cab, I used a Sharpie to draw lines on the screen over the straight edges. This gave me an accurate picture/location of the width of the machine.
    "I also measured the near-edge line that the camera shows. Knowing what that distance is, I can back up to within 2 in. of something as low and out of the line of sight as a curb.
    "We've had record snowfalls this winter, and the backup camera has been awesome. I was so impressed with it that I bought several more. I installed one on my truck and am going to install one on my wife's car."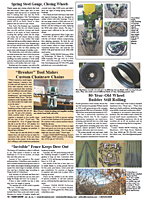 Click here to download page story appeared in.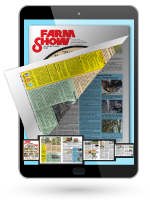 Click here to read entire issue
To read the rest of this story, download this issue below or click
here
to register with your account number.