Goat Dairies Go Big In Wisconsin
Wisconsin has long claimed to be the Dairy State, and that's increasingly true for goat dairies, too. At 74,000 head, the state leads the nation in the number of dairy goats, nearly twice that of second-ranked California. Multiple dairies housing and milking goats by the thousands have opened in recent years. At the same time, smaller operations are expanding in number and productivity.
"The unique thing with goats is there are a lot of niche markets," says Ashley Scheel, A-K Acres. "I have friends who milk dairy goats for their own use and friends with commercial dairies that milk from 100 head to 1,000 plus goats on their family farms."
Scheel represents one of the niches, as she and her husband Kyle specialize in high-quality Toggenburg dairy goats. They have shipped breeding stock as far as the Philippines, Puerto Rico and across the U.S.
"Demand is driving quality," says Scheel. "Even herds like ours, who don't ship commercially, utilize milk testing, linear appraisal (equivalent to cattle classification), and exhibiting from local to national levels. This drives the demand for higher quality genetics."
Goat genetics are a big part of Scheel's life. Currently the president of the Wisconsin Dairy Goat Association, she has been a licensed judge with the American Dairy Goat Association since she was 18.
She notes that many dairy goat producers start out buying a couple of goats for home consumption. Some expand into niche markets making cheese, soaps, lotions and more. Others expand into commercial milk production, selling to goat cheese plants in southern Wisconsin and northern Illinois, like Saputo, Kolb-Lena or LaClare.
LaClare Creamery started in the 1970's when the founders bought a small hobby farm with two goats. The herd slowly expanded to more than 400, as did their cheesemaking. Today, LaClare's 25 hard and soft goat cheese brands are 100 percent domestically produced. The company recently merged with a large goat dairy established to supply LaClare with milk. It now includes several herds in the 6,000 to 8,000-head size.
"When these larger dairies pop up, it increases demand for seed stock from smaller producers between 25 and 75 head," says Scheel.
Several things have changed as dairy goats have become big business, notes Scheel. One is the emphasis on genetics, in particular production, either in volume or in components.
"We used to think a decent lactation was around 6 to 8 lbs. a day or 2,500 lbs. a year," she says. "Today, we have goats producing upwards of 4,000 lbs. a year."
What genetics producers seek out depends on how they are paid. "In some areas of the country, they're paid more for components such as protein and butterfat," says Scheel.
Emphasis on herd health has been driven in part by the larger goat dairies. "They can't buy all the goats they need in one place, so they're careful about the goats they buy," says Scheel. "This means sourcing goats from herds with attention to detail on health testing and raised on strict protocols to reduce any risk."
Growth in demand for higher quality animals has also increased their value. Scheel notes that even a kid from a good family milker with decent genetics can sell for $300, twice its price 10 years ago. Higher quality animals have increased similarly. Kids from many breeds sell for $800 up to $2,000 when only a few weeks old.
"A good seed stock type animal will bring from $600 to $1,200," says Scheel. "Miniature breeds like the Nigerian Dwarf are another phenomenon. They've sold for upwards of $20,000."
Although Nigerians produce less milk per lactation than full-size breeds, they are very valuable for cheesemaking.
She and her husband don't sell their milk; they bottle feed it to the babies to protect the udder health of their breeding stock.
Scheel suggests FARM SHOW readers interested in learning more about dairy goats visit the Wisconsin State Fair. "We've had 1,200 head showing at the fair," says Scheel. "It competes in numbers with some of the national shows."
Contact: FARM SHOW Followup, A-K Acres, Marshall, Wis. 53559 (ph 608-219-1341; a_kacres@yahoo.com; www.a-kacres.com).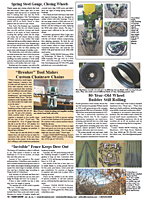 Click here to download page story appeared in.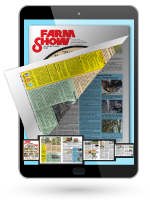 Click here to read entire issue
To read the rest of this story, download this issue below or click
here
to register with your account number.