Device Boosts Oxygen Levels In Water
High levels of dissolved oxygen (DO) in water keep ponds, plants and people healthier, and Mike White has a device to boost it. His patented Dissolved Oxygen Chamber can boost the levels of DO by 182 percent. The private contractor developed the device when he could find no other way to remediate oxygen-deprived ponds at a client's power plant.
"I tried everything I could think of to increase the oxygen," says White. "We spent a lot of money on bubbling machines, fountains and air injectors. They ran constantly for months and months before showing any increase in the DO."
In ponds, low levels of DO result in stratification, high levels of CO2 and other noxious gases released by pond debris and muck. Saturating the water with oxygen can remove dissolved gases and oxidize dissolved metals, including iron, hydrogen sulfide and volatile organic chemicals. High DO levels in water have also been shown to improve plant health and root mass, reduce disease, and increase beneficial bacteria in hydroponic and greenhouse systems.
State regulations required the power plant water to be drinkable status as it's released into a nearby river. The river runs into the environmentally sensitive and highly regulated Chesapeake Bay. Higher levels of DO would do the job.
"In the dead of winter, there is enough oxygen naturally, but from late spring through fall, we have to treat it," says White. "The best device I could find would treat 3 gals. per min."
White got busy in his shop working on a better way to do the job. His idea was to let running water from a pipe or valve do the mixing through a turbine effect. At the same time, an air pump would boost the level of oxygen to be mixed.
"I built the chamber with 4-in. and 6-in. exhaust pipes and reducers," says White. "The water moving through the chamber creates high and low-pressure areas in the small space. These pressures force oxygen into the water molecule."
His first prototype treated 150 gals. per min. and raised the DO from 2 ppm to 7. Recognizing he had a simple and low-cost solution to a big problem, he patented the device.
"I had a neighbor who was a draftsman, and he drew up plans for the prototype," says White. "Another neighbor is a writer, and she helped with the application."
White has since done several variations on his first prototype. They vary in size from 1 to 4-in. inlets with plans to go to 10 in. in size. The larger ones are for use with water pumps, while the smaller one is designed for use with water lines.
"I realized a device to increase DO that could treat industrial water and bring farm ponds back to life had potential for aquafarming, as well as other uses," says White. "That was why I developed the smaller prototype."
At first, White used a small vacuum to pump air into the chamber. Later he went with a pump designed to fill swimming pool liners. He has since acquired small, constant-run turbines for use as he refines the device.
White has had the device tested by an independent lab. It tested the unit on tap water and raised DO by 137.5 percent. He also tested it on his neighborhood well system.
"Water comes out of the ground at 7 ppm," says White. "I run it through the small prototype and into a plastic drum at 40 gals. per min. It raises the oxygen level to 10 to 11 ppm, depending on ambient temperature."
White is continuing work on his prototypes. His goal is to bring the Dissolved Oxygen Chamber to market. Depending on the response he gets, he may build and market them himself or license them to an established company.
Contact: FARM SHOW Followup, Mike White, 77 Farmington Rd. W, Accokeek, Md. 20607 (mikewhitecci@gmail.com).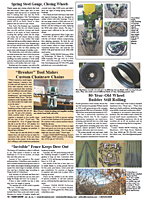 Click here to download page story appeared in.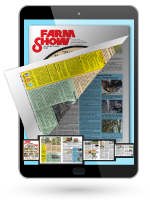 Click here to read entire issue
To read the rest of this story, download this issue below or click
here
to register with your account number.