They're Raising No-Till Vegetables
Tilling the soil is a thing of the past at Astarte Farm. The 6.6-acre market garden operation in Massachusetts is using no-till, compost, and cover crops to raise vegetables while boosting soil health. Making the combination work was only part of the challenge admits Dan Pratt, farm founder.
"Giving up the joy of seeing a clean cultivated field behind me on a tractor was the biggest challenge," says Pratt. "However, the no-till and cover crops are improving the soil and our vegetable crops. We are seeing a longer shelf life."
Pratt bought the farm in 1999 and certified it organic in 2004. In 2014 he sold it to Jim Mead, a local electrical engineer, but continued to be involved. Along with field manager Annalise Clausen, the three decided to transition to no-till.
Pratt had already begun working with cover crops on raised, tilled beds. While they improved soil texture, they didn't increase organic matter. That began to change when they went to no-till. However, eliminating tillage didn't happen overnight. Pratt warns against trying to do it in a single season.
Part of the challenge was adopting new methods of weed control. They began practicing "occultation" or weeding with tarps. Instead of tilling up germinating weeds, the farm team covers them with heavy, 6 mil poly tarp in 32 by 100-ft. sheets. The tarps can be left in place for several months. While they don't let rain penetrate, they do prevent soil moisture from evaporating. This keeps it moist and prevents weeds from germinating or growing if they do germinate.
Unlike cultivation, occultation is also gentle on soil fungi and other microbes and invertebrates.
Occultation is also practiced on the farm's 4-ft. by 100-ft. growing beds. Ground cloth laid the length of the bed controls most annual weeds and slows perennials.
"The ground cover cloth lets water and oxygen through, but cuts out the sunlight," says Pratt. "We may leave them for as little as 2 1/2 weeks in the summer or for 2 mos. or more in early spring or late fall."
Occultation is usually used after cover crops have been either crimped with a 4-ft. I & J roller/crimper or cut with a 4-ft. flail mower from Rears Mfg. The quick attach roller/crimper can be front-mounted to the tractor loader for added down pressure. Pratt likes the evenly mulched bed that remains.
"The flail mower chops up cover crop and crop residue and drops the material straight down to create a sheet mulch," says Pratt. "If it is a low growing cover crop, we may just cover it with wood chips or the ground cloth."
When the row is ready for transplants or to be direct seeded, the ground cloth and tarps are removed, and a thick layer of compost is laid down. The farm's compost drop spreader from ABI Attachments is a key piece of equipment. The hydraulic drive lets workers vary the depth of the spread independent of tractor speed.
"With the spreader, one person can cover three to five beds an hour compared to two people with shovels and one on the tractor doing one bed an hour," says Pratt. "It works best with screened and dry material."
Compost is key to the farm's program. Instead of drilling in cover crops, the farm workers will spread the seed and drop a thin layer of compost over it.
"Our system is based on compost," explains Pratt. "For a certified organic market garden, the amount of compost can be a major hurdle. You need to find or create a really good source."
At the same time the farm managers transitioned to no-till, they diversified their cover crop program. Pratt had depended largely on winter rye. Although it reliably grew in temperatures above 45 degrees and produced a layer of compostable biomass in place, it also left behind a solid root mass.
"It made it just about impossible to cut out holes for transplants," says Pratt. "In recent years we've transitioned to winter kill covers like peas and oats and have experimented with daikon radish. We are moving to a more diverse cover crop mix."
A drill for use on the 4-ft. beds is the missing tool in the Astarte no-till program. Currently, multi-culture cover crops require multiple trips over the bed with one-row seeders.
"If we could incorporate cover crop cocktails in a single pass into a layer of compost, it would save a lot of time and labor," says Pratt.
Contact: FARM SHOW Followup, Astarte Farm, 123 West St., Hadley, Mass. 01035 (ph 413-584-5552; dporganic@aol.com; www.AstarteFarm.com).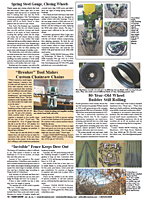 Click here to download page story appeared in.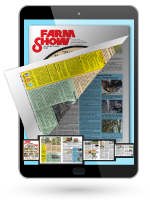 Click here to read entire issue
To read the rest of this story, download this issue below or click
here
to register with your account number.