FARM SHOW Tests Battery-Powered Auger
"When Ryobi sent FARM SHOW their 18-volt and 40-volt battery-powered earth augers to try out, I was skeptical. How would they handle 2 to 2 1/2-ft. holes in different soils with rocks and other obstacles? I was quickly won over.
"I love the Ryobi 40-volt cordless earth auger. The 18-volt unit was less impressive, but definitely has its place. After years of digging postholes and holes for plants by hand, the battery-powered units are a real treat. There also is no comparison between them and heavy, noisy, smelly and dangerous, gas-powered, one-man augers that I've used in the past.
"The compact power heads let you get in closer than any gas-powered unit I've used when digging a hole next to an existing fence, between plants, or up against a wall. With forward and reverse, it is easy to pull them out of the holes. The 40-volt offers 2 speeds, but it is the anti-kickback functions on both that I really appreciate.
"Anyone who has ever operated a gas-powered auger knows how tricky it can be when encountering a rock or other buried item. I've taken more than a few blows to the ribs as the auger stops and the power unit spins.
"With the Ryobi cordless, kickback is not a problem. Hit a rock or buried metal and it stops and resets so you can reverse out of the hole.
"At about 35 lbs. with the battery in place and an 8-in. dirt bit, hauling the 40-volt around and lifting it out of holes is not a big problem. At about 16 lbs., the 18-volt is ideal for lighter excavation.
"In addition to fence postholes, I did some shallow excavation in less-than-ideal ground. I wanted to lay some 4-in. drain tile on the edge of our driveway, burying it under 4 in. of washed rock. I wasn't looking forward to a lot of pickaxe work to dig up the driveway.
"The packed gravel was too much for the 18-volt with its 6-in. auger. However, the 40-volt with its 8-in. dirt bit proved ideal for the job. I drilled out a series of holes the length of the trench and about a foot deep. Removing the loose gravel with a narrow spade was easy.
"The quick connect augers make switching out different size bits easy. Ryobi offers 4, 6, 8 and 10-in. dirt bits. All are 24 in. long with another 6 in. or so of shaft. If installing wood stakes in hard packed dirt or clay, I could see the 18-volt power head and 4-in. dirt bit being a real help.
"Overall, I would give a hearty endorsement of the 40-volt powerhead versus the 18-volt. The 40V earth auger is priced at $299 with charger, 4Ah battery and an 8-in. dirt bit. The 18-volt is priced at $249 with charger, battery and 6-in. bit. The additional $50 for the larger unit would definitely be money well-spent."
For more information visit www.homedepot.com and search for Ryobi earth auger.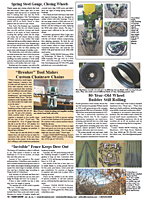 Click here to download page story appeared in.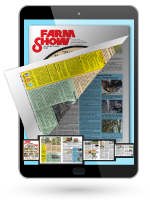 Click here to read entire issue
To read the rest of this story, download this issue below or click
here
to register with your account number.