How To Make Money Selling Bratwurst
Instead of selling individual cuts of meat or wholesaling to restaurants, a couple of Oklahoma livestock producers say bratwursts are the secret to their success.
    Chicken brats started out as a way to use up drumsticks at Ward Family Farms in Pawnee, Okla. Other chicken parts sold well but there were always leftover drumsticks, says Chad Ward.
    "My butcher said he would bone and grind them. You can do anything with ground meat, and he came up with brats," Ward says.
    He was skeptical at first, but not anymore.
    "I had done beef brats but quit them because chicken is better. The texture is nicer, and they are not overly greasy," he explains.
    The dark meat provides enough fat and now he bones some whole birds to make brats and breakfast sausages. He offers four varieties including plain, cheddar, cheddar jalapeno, and chorizo, They sell them for $9 to $12 for packages of four to customers in northeast Oklahoma at pickup sites and through home delivery.
    Customers are quickly convinced once they taste chicken brats. Even with the extra processing costs, the brats net a nice profit for about 25 percent of the pasture-raised chickens on Ward Farms. The rest of the chickens are cut up and marketed directly to customers through the farm's website. The Wards also raise and sell beef and lamb and recently added hogs to the farm.
    A couple of hours away, Angela Faughtenberry raises chicken, pork and beef on certified organic pastures on her Tulsa, Okla., farm. She initially focused on selling her pork to high end restaurants and raised Mangalitsa hogs, considered the Wagyu beef of pork because of its marbling quality sought by five-star chefs. Selling it for $3/lb. wholesale she was making very little profit.
    "I needed to move the whole animal. So, I came up with brats. I hold the bacon and grind the rest of the pig," she says, and sells some of it as ground pork and sausage. But after experimenting with other seasonings, she has her butcher turn most of the meat into Jalapeno and cheddar brats.
    "I'm able to turn it to $40/lb. by putting the brat on a bun and selling it for $10 with grilled onions and a bottle of water to make it feel like a meal deal," Faughtenberry says, at a downtown Dallas farmers market.
    The location is as important as the product, she says. The regulations about needing pressurized hot water in Tulsa were more challenging to serve food. In Texas, the license just requires water and bleach. The Dallas location is also a permanent market with reasonable daily fees and goes year-round on weekends plus a few special events.
    Though it's a 4-hr. drive from her farm, the venue attracts 10,000 people a day so it's worth it. She also likes the freedom of choosing when she wants to sell and not be at the beck and call of restaurant owners.
    The brats continue to be the moneymaker, however, and have made Faughtenberry's farming business very successful. Besides a much higher profit per pound, she is transitioning her hogs to Berkshires, which will take a third of the time to finish compared to the Mangalitsa hogs. She also can raise fewer of them and make more profit than she did when selling wholesale.
    "I think it saved my farm," she says. "I encourage farmers to try something. Farmers are the best cooks, and they need to get over the intimidation of cooking for the public."
    Contact: FARM SHOW Followup, Chad Ward, Ward Family Farms; chad@wardfamilyfarms.com; www.wardfamilyfarms.com) or Angela Faughtenberry; info@413farm.com; www.413farm.com).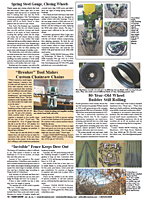 Click here to download page story appeared in.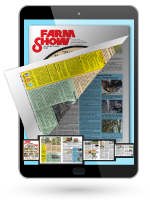 Click here to read entire issue
To read the rest of this story, download this issue below or click
here
to register with your account number.