Look: A Bowling Alley In A Barn
Harold Rumbaugh converted an old livestock barn on his farm into a one-lane bowling alley for his own recreation and that of his family and friends.
The nearest commercial bowling alley is 15 miles from Rumbaugh's home. "A person who likes to bowl can spend $25 a day just on bowling," says Harold of his $7,000 investment. "Rumbaugh Barn Alley", as he calls it, has a regulation lane 80 ft. long and 8 ft. wide. To accommodate the bowling lane, Harold and his two sons added a 40 ft. extension to the old barn that was about 45 ft. long. They insulated the building, put in a furnace and then installed the bowling alley.
While bowling, Harold sets the temperature at 60-65 degrees in the winter. He turns the thermostat down to 45 degrees at night, and the temperature never drops below 50 degrees.
Between last October and the first of April, the normal heating season in this part of Iowa, the furnace used only 250 gals. of LP gas. At 46 cents per gal., heating the building cost $115. That, plus $18 per month for electricity, represents total operating costs of the unit the first winter.
To help pay with utilities, each bowler drops a dime or so per game into a jar. He obtained the lane, along with five others, from a bowling alley in nearby Collins that went out of business. He said he may install another lane sometime.
Harold, who erects Conrad steel bins for a living, moved the lanes from Collins, about 3 miles away, to his farm home with a flatbed trailer. He hired a truck with a boom to hoist the 24-ft. sections of the lane onto the second story of the old barn. The boom truck also installed the automatic pin setter, which weighs more than a ton.
Initially, Harold considered installing the bowling alley in the basement of the Rambaugh home. "But my wife didn't want that because of the noise," he told FARM SHOW.
He and his two sons worked about three months during the summer of 1979 to build the alley. He notes that a lane should be 100 ft. long. His is 80 ft. "Our approach is 12 ft. You really need 15 ft.," he points out.
The most games he has ever bowled is 28 in one day. "This took about 4 hours.," says Harold, who estimates that the alley is used about 18-20 hrs. each week.
Harold says he consistently gets higher scored in his home lane now than at commercial lanes. He's 61 and enjoys bowling everyday. His highest "at home" bowling score is 289, which is also the highest anyone has scored. He once scored a perfect 300 at the Collins lane when it was still operating and has two plaques to prove it.
Harold and his wife have two sons, two daughters, one daughter-in-law, and two sons-in-law who all like to bowl. Only one 8-year-old grandson of six grandchildren is old enough now to bowl. "But the other grandchildren soon will be bowling," he said. "Thus, this family bowling alley will pay for itself over time."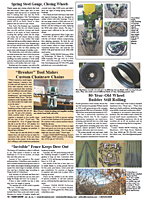 Click here to download page story appeared in.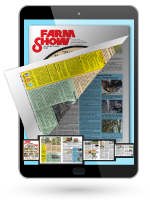 Click here to read entire issue
To read the rest of this story, download this issue below or click
here
to register with your account number.