Massey Unveils New Tractor-Mounted Combine
"Saves money and does as good a job or better in most crops than conventional combines," Massey Ferguson representatives told showgoers at the recent DLG Farm Equipment Exhibition in Munich, West Germany, where the company introduced the first full-sized tractor-mounted combine ever built by a major manufacturer.
"Preliminary feedback has already convinced us that this may be one of the best-selling machines worldwide that we've ever produced," Herman Riebensahm, an MF European representative told FARM SHOW in Munich at the DLG Exhibition, one of the largest farm equipment shows in the world.
Massey's new quick-attach machine, which is comparable in harvesting capacity to the largest combines now sold in the U.S. and Canada, mounts and is ready to go in just 10 min. and dismounts right in the field in only 5 min.
"It's the first tractor-mounted combine ever built with a quick-attach feature this efficient," Riebensahm says. "It means your tractor is always available for other work. You can combine in the morning and plow in the afternoon with the same tractor. A self-propelled combine has the equivalent of a 100 hp. to 200 hp. tractor sitting around idle 80% of the time."
The new combine eliminates all drive components such as engine, gearbox, wheels, hydraulics, as well as the operator's platform or cab with air conditioning and steering. The remaining threshing unit and grain hopper will fit any suitable size tractor with reverse drive, a feature found on most new European tractors.
The first production models, built for the 1982 harvest season, differ from North American combines in that they have smaller grain heads, due to high yielding, dense European varieties, and smaller grain tanks due to small European fields. Of the two models so far available, one has an 18-ft. grain table and the other a 16-ft. table. The larger model requires a 120 to 200 hp. tractor and the smaller one a 110 to 150 hp. tractor. There's enough clearance for 4-wheel drives, too, no matter what the tire size. The combine can also be fitted to crawler tractors.
The combine has a pivoting mechanism which swings it off the tractor to a trailing configuration behind the tractor, which is driven forward for road transport. "Because the combine pivots off the tractor, service and repairs are remarkably easy. All important parts and adjustments are exposed to the operator," notes Riebensahm. "It also makes it easy to switch from small grains to corn and back again."
The cutter table separates the grain in two as it's cut, running it through two separate but identical threshing units up either side of the tractor. Each side on the 18-ft. model has a threshing unit 40-in. wide, a rotary separator, straw walkers and shaker shoes. All have been taken from conventional self-propelled machines, designed for any crop under any conditions, says Riebensahm. The 130 bu. grain tank mounts without tools on the front of the tractor, which is at the rear when the combine's attached. The unloading auger is controlled by hydraulics from the tractor seat.
Karl Nygren, Massey Director of Marketing and Planning in Canada and the U.S. told FARM SHOW that although the combine is still in experimental stages, there are high hopes in North America for the machine, which was developed and patented by a Massey Ferguson employee in Germany.
"We expect tremendous response from any farmer who now uses a pull-type combine as well as from those with self-propelled combines yet with relatively low harvest requirements," Nygren told FARM SHOW. "We're not totally convinced that this will be an ideal corn harvesting machine because of the problem of mounting cornheads, which are extremely heavy, on tractors."
Riebensahm says the price of the combine, along with a new tractor to power it, will be comparable to a similar size self-propelled machine. So in effect, he says, the tractor is "thrown in for free".
For more information, Contact: FARM SHOW Followup, Massey Ferguson GMBH., Postfach 520, 3440 Eschwege, Industriehof, West Germany (ph 056 51 81 502).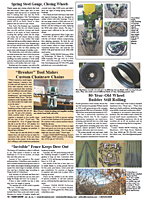 Click here to download page story appeared in.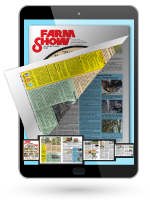 Click here to read entire issue
To read the rest of this story, download this issue below or click
here
to register with your account number.