California Hatchery Operates Differently
A hatchery near Sebastopol, Calif., says it does things differently than other hatcheries, from how they raise their birds to how they deliver fertile eggs and chicks to customers. They put the needs of the birds and the environment first, and the market is responding.
"People have come out of the woodwork to support us," says co-owner Franchesca Duval. "We are focused on how we treat our birds, using plastic-free, compostable packaging, cutting waste, and powering our farm completely on solar."
Duval and her husband Ryan are pioneers in humane breeding and hatching. Unlike much of the poultry industry, they do not kill excess males, and their breeding flocks are on pasture.
"We raise them as closely as we can to how we believe chickens would live naturally, with access to shade, grass and grubs," says Duval.
Duval has been raising chickens since she was a young girl, living on less than an acre with her family near Santa Cruz, Calif. It wasn't until she and Ryan married and began looking for a small farm that they learned how most hatcheries dispose of male chicks. The idea of live chicks being ground up and used in chicken rations or incinerated convinced Duval to hatch out her own. In the past 7 years her passion has become their business. Today they keep around 250 adult birds, all carefully selected for egg color, productivity, beauty, and temperament.
"We started from scratch with less than $100 and reinvested everything we made," says Duval. "We made no money for the first 4 years."
They still make no money on some of their chicks. While some breeds are difficult to sex when newly hatched, others are sold as female only. In those cases, the males find new homes in several ways. Many are simply given away every Friday to local farm laborers who raise them for their families, supplementing their low incomes. Others are offered to customers at no cost to round out orders of less than 10. She is adamant that other breeders could find their own solutions.
"It takes ingenuity and creativity to do business differently," she says. "If I have a problem, I just pray about it, and an answer comes. There is always a creative solution if you have the heart to go for it."
Alchemist Farm chicks and eggs don't come cheap. Day old chicks run as high as $25 each (minimum order of 10), and fertile eggs for hatching run as high as $10 each.
Dedication to chosen breeds can add costs without profit. Recently Duval reintroduced Swedish Isbar, also called Silverudds Blue by some breeders.
"They are the only breed that lays a naturally green tinted egg," she says. "Other green egg layers are hybrids. The eggs can have purple sprinkles over the top of the green."
Alchemist Farm offers breeds that lay a range of egg colors from blue to dark chocolate. Some breeds are noted more for their color and beauty, and the farm offers them as well as dual purpose breeds.
Duval hatches weekly from February through July and then twice a month. Chicks are shipped in biodegradable boxes and liners. Eggs are also shipped in biodegradable, plastic-free packaging.
The packaging works. Duval is proud of their survival rates with both eggs and chicks. "We have a special reed mat for chicks and double insulated boxes with heat packs, as well as food and road gel for nourishment," she says. "We stand behind our chicks and guarantee live arrival."
The Duvals are as eager to pass along what they have learned as they are to sell chicks and eggs. They send out hundreds of hatching eggs each year to classroom hatching projects. Their Facebook and Instagram sites are loaded with short videos about the birds and the farm. Their website offers detailed information about raising birds. Chicken and quail owners can gain even greater insights with online classes ($65) offered on the farm website.
Contact: FARM SHOW Followup, Alchemist Farm, P.O. Box 1053, Sebastopol, Calif. 95473 (ph 707 336-2202; AlchemistFarm@gmail.com; www.alchemistfarm.com).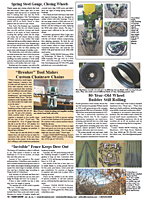 Click here to download page story appeared in.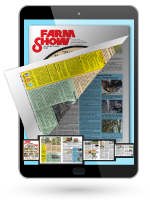 Click here to read entire issue
To read the rest of this story, download this issue below or click
here
to register with your account number.