Direct Marketing Saved Wagyu Producer
"You need to taste some of our meat," said Wagyu cattle feeder Brad Feddersen when FARM SHOW contacted him for this story. Three days later 3 steaks arrived. He was right. This writer had to taste the meat to appreciate how those steaks could be worth from $60 to $80 retail. It melts in your mouth.
    Getting customers to "try some" is how the Feddersens rescued their beef operation from disaster.
"In February, 2020, we were selling our beef through a broker, who sold to top scale restaurants nationwide," says Feddersen. "A 1,600-lb. animal could sell for $8,000 to $12,000. When the restaurants closed, our broker didn't pay us for half of the last 30 head we sold him."
The timing was bad. The Feddersens and his parents Larry and Marge custom-fed cattle for a Texas Wagyu breeder from 1997 until 2017. Larry developed a low stress handling and feeding regimen for the easily stressed Japanese breed.
In 2017 Brad and his wife, Shawna, purchased a small herd of purebred Wagyu and also began buying feeder calves from purebred Wagyu breeders in Texas, South Dakota and Alabama.
It takes Wagyu cattle more than 2 1/2 years to reach market weight. This meant the Feddersens had just started selling their own beef as the pandemic hit.    One of the first things he did was to stop buying calves for the feedlot. "
He started working with local lockers to process his beef and small brokers to get his beef in the hands of consumers.
It was family and friends that began to turn things around. One buddy had a walk-in freezer for sale. Another knew a guy in refrigeration who could help move it and set it up. Soon they had a salesroom on the farm.
"We had it inspected and approved," says Feddersen.
Shawna set up a website and by mid-2020, they were online and selling their Wagyu beef across the country. Sales got a boost in November when they won reserve grand champion at the Wagyu breeders Triple Crown Steak Challenge.
Feddersen bought a freezer trailer, which they take to pop-up markets.
"We give away free samples and educate potential customers to the benefits of Wagyu beef at our booth inside," says Feddersen. "Our daughter takes orders and our son helped fill orders. We sold $120,000 worth of meat in our first 5 Saturdays."
Many of those who bought at the market started buying at Feddersen's farm store or ordering online. Word spread.
Feddersen admits he was surprised how much local demand there was and how many buyers turned into repeat customers. It was grass roots marketing at its best.
When Feddersen asked Midwest grocery chain Fareway Foods to try his meat, they asked for a tour of the farm.
"We had close to 100 people at the farm when the Fareway CEO and the other executives showed up," says Feddersen. "We wanted them to meet everyone we work with, from the guys who help on horseback with the cattle, the truck driver, our vet, our implement dealer and the guys who cut up our meat. "
The good news for Feddersen is that the tour was a success. Fareway now sells his beef at 122 locations as well as online. The bad news was that he needed to close his online store with one exception.
"We told the Fareway executives that we would never stop selling to the people who kept us going," says Feddersen. "They kept us alive when we started selling off the farm."
Contact: FARM SHOW Followup, Feddersen USA Wagyu, P.O. Box 302, Anthon, Iowa 51004 (ph 712 490-6763; feddersenusawagyu@gmail.com; www.ilovewagyu.com).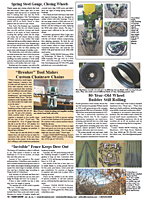 Click here to download page story appeared in.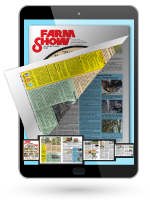 Click here to read entire issue
To read the rest of this story, download this issue below or click
here
to register with your account number.