He Tracked Down The Story Of The "Square Wheel" Inventor
An Iowa farm boy invented and patented one of the most unusual ideas in agricultural history. Royal Riblet and his brother Merwin conceived and built a highly complex square track mechanism in 1915 that they said could provide greatly improved traction for round wheels. More than a century later, retired engineer Charles Lyons bought a set of the "square wheels" and chased down the inventor's history.
"I was a 10 year-old farm kid in 1952 oiling up an old Case steam engine at our local fair when I heard this incredible noise over the sound of the engine and saw a cloud of dust in front of the grandstand a great distance away," Lyons recalls. "That was the first time I saw or heard a tractor with square wheels. The experience slipped my mind until 2002, when I visited a neighbor who had a set of unusual square wheels bordering his driveway. Eventually I bought them from him and now they're along my driveway."
With the unique wheels in his possession. Lyons set out to learn more about them. He learned that Royal Riblet, a Washington farmer, submitted drawings for the idea in 1913 and was granted a patent in 1915. "The complex system had 16 two-foot wide tread plates that could surround any size wheel, riding on complex rocker arms that when the vehicle was moving, created the loud clamor that I heard as a kid at the fair," Lyons says. Riblet envisioned the system would provide traction for wheeled vehicles without the expense of buying a tracked machine.
"The idea was probably a good one," Lyons says, "but the complex engineering didn't measure up because of numerous moving parts without any bearings or greasable fittings, so rust from inactivity would seize them up fairly quickly."
Even those problems didn't prevent the Riblets from revising the idea and applying for additional patents in 1917 and 1929, the latest which was designed on a 4-wheeled chassis. The U.S. Army tested the square wheel idea at the beginning of WW II, but nothing came of it.
Royal Riblet's inventiveness continued in the 1920's from his Spokane-area farm where he developed a pattern sprinkler system, a mechanical parking garage, and other mechanical devices. In 1924 he designed and built a 3-story Florentine-style mansion situated 450 ft. above the Spokane River Valley. Riblet's imaginative architectural marvel was one of the first homes wired for electricity and his grounds included a life-sized checkerboard, 4 acres of terraced gardens, a pool carved in basalt, an enclosed croquet court and a red-roofed stone gazebo. Guests reached the hilltop estate on a 5-passenger tram, a precursor to the Riblet Tramway Company, which eventually built a system to span the Spokane River.
In 1979 the Estate was designated a national historic landmark and in the early 1980's it was transformed into a destination winery by Harold and Marcia Mielke.
Lyons says the destination winery welcomes more than 65,000 visitors annually from around the world, and all of them can get a historical glimpse of the Riblet invention while viewing the square wheel tractor and informational placard on display in front of the winery. "The idea was definitely unique, and it's nice to see that its history is being preserved, even though it was never widely accepted," Lyons adds.
Contact: FARM SHOW Followup, Charles Lyons, Deer Park, Wash. (challengehill.es@gmail.com).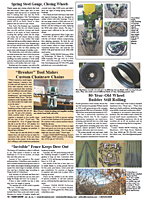 Click here to download page story appeared in.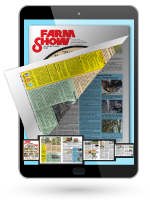 Click here to read entire issue
To read the rest of this story, download this issue below or click
here
to register with your account number.