"First And Only" Triple Tractor Hookup
Charles Fairchild, Rochester, Ill., is the only farmer, so far as we know, who ever worked three tractors at the same time, and this picture is the only record of it.
Today, Fairchild farms 1,000 acres with ICH 1456's, but he is glad to talk about the "good old days" between 1962 and 1965 when he was "scrounging" for enough tractor power to farm 500 acres.
He put together an unbelievable hitch made up of three tractors and two plows. He got along well with it, too, and still has the "retired" tractors on his farm.
Fairchild recalls that his triple hitch was a real attention getter. "It wasn't unusual at all for a highway traveler to slow down or even stop for a look. It almost started a fight in a local restaurant when one coffee drinker told another he saw a farmer driving three tractors. To settle it, they came out for a look."
Fairchild's triplet emerged in that era between three plow tractors and the newest generation. As farmers took on more land, they needed more power. The only way they could get it was to hook tractors together. At that time, a lot of tandem tractors appeared. Indeed, several companies offered kits to tandemize tractors. The "heyday" was over when higher horsepower tractors became available. Tandem tractors enjoyed a relatively short period in tractor history and few survive today.
Fairchild remains an innovator. There were several things about multiple tractors he liked and which still intrigue him. "I'd love to put together two 1206's, or two 1456's. With that kind of tandem, I'd whip the best of 4-wheel drives," he told FARM SHOW.
Fairchild recalls that the full economy of his triple hookup was a real surprise. "I still can't explain it today, but the tractors making up the triplet would use less fuel hooked together than they'd use as singles."
On some hitches, Fairchild would drop off the third tractor and just use two. While driving the triplet "meant staying awake because you could get into a bind real easy," Fairchild never had any bad experiences in three years of operation.
In front he had an International 400 rated at 56 hp, followed by two Case tractors at 52 hp., for a total of 160 hp. for the three. He pulled a 5-bottom and a 3-bottom plow, both equipped with 16-in. shares. To complicate matters, one plow had a mechanical lift while the other was hydraulic. When he had everything going, Fairchild could travel 6 to 6 1/2 miles per hour, and he could plow 20 acres in 2 1/2 hours.
Fairchild had another "gee-whiz" outfit in those days. It was a 2-row John Deere horse planter which he used behind his WC Allis Chalmers tractor to plant corn and soybeans at 10 mph. "That was the same as planting 4 rows at 5 mph. What made it impractical was that I had to cultivate 2 rows at a time," he recalls.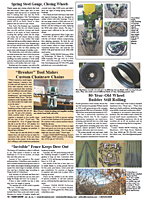 Click here to download page story appeared in.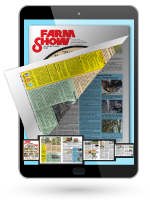 Click here to read entire issue
To read the rest of this story, download this issue below or click
here
to register with your account number.