First Prototype Microwave Dryer
The first farm-size microwave grain dryer, reportedly able to dry grain at five times the rate of conventional dryers at just a fraction of the energy cost, will be tested on farms this summer by the Ken Bratney Co. of Des Moines, Iowa.
"This dryer uses only about as much electrical power as a conventional dryer uses to run its fans and augers," says Neal Alles, vice president, explaining that grain is dried in the new Vac-U-Wave dryer by microwaves in a sealed vacuum chamber. "Since vacuum lowers the boiling point of water, less energy is required to vaporize the moisture. Also, as in conventional microwave ovens, the microwaves heat only the liquids in the grain so they require less energy and cause less crop damage."
The new dryer uses industrial-size versions of the same microwave generators, called magnetrons, found in Amana's Radar Range microwave kitchen ovens. There are 36 magnetrons in the 500 bu. per hr. prototype crop dryer.
Grain enters the dryer from a hopper at the top. It passes an airlock into the vacuum chamber where one of two primary augers moves it past the magnetrons in sequence.
Steam boiled out of the grain is carried back to a heat exchanger near the inlet hopper where its heat is passed along to a heat-carrying liquid in the auger tubes. The heated augers pre-heat incoming grain with the recycled energy.
After passing through the primary series of magnetrons, the grain drops down to a secondary set for additional drying. Then, it passes an outlet airlock where it can be hauled or augered away. So far, company tests have shown it takes just three minutes to pull five points of moisture off a bushel of soybeans, says Alles.
"This only is 1/5 to 1/6 the time a conventional heat and air flow dryer uses about 2,000 btu's to remove a pound of water from soybeans whereas the Vac-U-Wave requires just 50 to 200 btu's. In addition, the microwaves kill spoilage-causing bacteria while leaving the seed germ unharmed," Alles told FARM SHOW.
Models with 500 and 1,000 bu. per hour capacities have been developed so far. The 500 bu. model, with 36 magnetrons, draws a total of 95 kw per hour to operate its microwaves, fans and augers.
Most grains have been tested in the Vac-U-Wave, including corn, soybeans, edible beans, sunflowers, rice, and wheat. It also holds promise for drying hay pallets and cubes, and for drying spent alcohol mash for feeding and processing, says Alles.
He claims that the amount of stray microwave radiation output given off by the microwave dryer is less than that given off by a CB radio. After testing this summer and fall, his company intends to start limited production early next year. "Price should be comparable to top-of-the-line conventional dryers," Alles told FARM SHOW.
(The McDonnell Douglas Company, of St. Louis, has also tested an experimental 30 KW vacuum-microwave dryer. McDonnell is currently building a 100 KW model for further testing, but has no plans for commercial production as of yet.)
For more information, contact: FARM SHOW Followup, The Ken Bratney Company, 3100 101st St., Des Moines, Iowa 50322.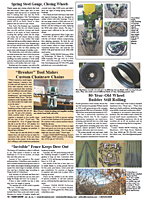 Click here to download page story appeared in.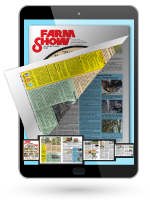 Click here to read entire issue
To read the rest of this story, download this issue below or click
here
to register with your account number.