Home Built "Big Bud" Tractor Is Replica Of World's Largest
Back in the mid to late 70's the classic Big Bud 747 was billed as "the world's largest tractor" by The Guinness Book of World Records. Charlie Melberg, who with his sons, Brad and Mark, run a large farm operation near Hector, Minn., took on a nearly 2-year long task between farm work to build a working, scaled down replica of a Big Bud for Charlie's 10-year-old grandson.
    You might say that Melberg now owns the world's smallest Big Bud.
    "I have five grandsons and I restored four 1960 Minneapolis Moline Jet Star tractors for them. My middle grandson, Madden, saw my small desk model of a Big Bud and photos on the internet. He came to me one day and said 'I don't want a Minneapolis Moline. I want a Big Bud'."
    When Madden first brought up the idea, Charlie told him they had a big job ahead of them. In building the machine he got to talk to one of the former owners and an engineer who was 90 years old, who told him how they designed the tractor. One of Melberg's first steps was to contact David Nelson at Loftness Mfg. in Hector to see if he could laser cut some parts for him. Charlie's son-in-law, Tim Swenson of Glenwood, Minn., is a draftsman and engineer. He drew up dimensions taken from Melberg and put them into a CAD program, and sent them to Kirk Reckow at Loftness.
    Everything on the Big Bud was built to scale and replicated to match the original Big Bud that went into production in the 1970s. The inside of the cab is roomy enough to hold an adult driver.
    Melberg says this is a "play tractor" for his grandson to drive around and will be kept in the family for years to come. He has, however, used the tractor to drag his farmyard. Various versions of the Big Bud were built by Northern Mfg. Co. in Havre, Mont. until the last one rolled off the line in 1992. Melberg chose to build a scaled down replica of the 525/50 that was built between 1979 and 1982. The 525 number refers to its original hp.
    A 1979 Big Bud 525/50 can be purchased now for $180,000. "These tractors were used for farming big areas," says Melberg. "A few went all over the U.S., and at one time a farmer by the name of Harlan Johnson from nearby Renville, Minn., owned 3.
    "We built this replica tractor to scale taking measurements off a real 525/50 Big Bud, which resulted in a single seat tractor about 25 percent the size of the original. It's powered by a Yanmar 3-cyl., 25 hp. diesel engine, which is used in Deere lawn and garden equipment, Bobcat skid loaders and a lot of other machines. I purchased farm tires for it from Loftness. It has power steering and 2 old Case garden tractor rear ends. The hydraulic-driven, 4-WD unit has a hydrostatic transmission with infinite speeds forward and backward of about 10 mph. We think my Big Bud weighs about one ton," says Melberg.
    Every part was made, taken apart and put together again. Other parts like the rear end and engine were hunted down on Amazon and eBay. Most of the painting was done by Adam Swanson at Macik's Paintin' Place in Hector, and decals were furnished by Creative Details in Danube, Minn. Charlie, his grandsons and hired help assembled the tractor at the farm shop.
    "We built the first model out of cardboard to make it look right and come up with the correct dimensions," says Melberg. "We spent many nights and weekends designing things the way they should be to make it look like the original Big Bud. We took the cab off 3 times and rebuilt it again. The drive system was taken apart many times to get it right, and we had to fix oil leaks and adjust things to make it fit."
    The Big Bud 747 with its 16-cyl. Detroit Diesel engine is 27 ft. long, 20 ft. wide and 14 ft. tall. The wheels were specially made in Canada and are 8 ft. in dia. and 3 ft. wide. When the 1,000-gal. fuel tank is full, the tractor tips the scales at about 130,000 lbs.
    Thanks to Mike Schweiss at Schweiss Doors for permission to reprint this article from his website, www.bifold.com. Schweiss makes state-of-the-art bi-fold hydrauic doors for farm buildings.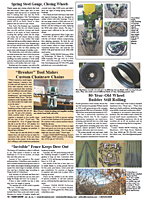 Click here to download page story appeared in.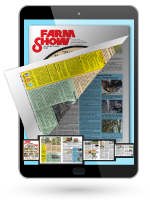 Click here to read entire issue
To read the rest of this story, download this issue below or click
here
to register with your account number.