Project Pairs Rare Sheep Breeds With "Fiber Artists"
Have you ever knitted a hat with yarn spun from the wool of a Clun Forest sheep? Or woven a rug with Karakul wool? It's now easier than ever to find interesting fibers to work with, thanks to the Livestock Conservancy's "Shave 'Em to Save 'Em" (SE2SE) project, started in 2019. Besides helping hobbyists and artists find interesting wool to work with, it also benefits producers working to save rare and heritage breeds.
"We have to give them a job," says Deborah Niemann-Boehle about 22 breeds of sheep on the Livestock Conservancy's priority list. Increasing demand for their wool makes it more sustainable for producers to increase their flocks.
Fiber artists/hobbyists pay $15 to sign up and get a "passport". Artists have access to a directory of rare breed fiber providers, and whenever they purchase raw wool, roving or yarn, they receive a stamp. After creating clothing or art from the fiber, the artist posts a photo on Facebook or Ravelry, a website for fiber artists. When they complete 5 projects using different breed fibers they earn a prize, and there are prizes for 5, 10 and 15 completed projects.
The three-year grant project recently finished its first year.
"Fifteen people already finished 15 breeds," Niemann-Boehle says, noting that 1,650 fiber artists signed up. There are more than 500 fiber providers, though many of them only have a few sheep.
The campaign has made a big difference, says Amy Manko, owner of The Ross Farm (www.therossfarm.com), a fifth-generation Pennsylvania Century Farm on the National Register of Historic Places. She was already successfully marketing fiber products from her large flock of 150 sheep with 11 rare breeds.
"The first year of SE2SE, my online sales were up 650 percent and my live sales doubled," she says. She hands out SE2SE brochures and promotes the program at shows and events she attends. Besides posting photos on social media, many of her customers personally show her what they have made from the fleeces, roving, yarn and kits she sells.
The project also benefits small flock owners who didn't do anything with wool in the past and now have a way to market it. Part of SE2SE's goal is to teach them how to skirt (clean) fleece to meet buyer's expectations.
"I always encourage people to figure out what the cost is to produce for the basis of pricing," Manko says. "We have to be business people and know how to price and market our products."
Based on prices listed on Etsy in August 2018, Niemann-Boehle wrote a blog about price ranges.
For example, raw fleeces of heritage breed sheep typically net from $10 to $25/lb. Washed fleeces can be worth $35 to $64/lb. Roving averages $27 to $64/lb. Yarn averaging $80.32/lb. reflects how prices increase with more processing. Rare and top quality fibers earn even more.
"All wools are different and special in their own way, and we want fiber artists to know they are out there," says Niemann-Boehle, coordinator of SE2SE. Besides clothing, some are ideal for rugs, tapestry and felting.
"One of the big surprises is artists are finding wool that they think is as good as Merino, which has been commonly available," she says. "Clun Forest, for example is on the endangered list and is very popular because it is really soft for hats and scarves."
Crafters also appreciate having a selection of naturally-colored wool — which in the past producers often discarded because they were told it was worthless.
Breeds on SE2SE's list include: Florida Cracker, Gulf Coast, Hog Island, Santa Cruz, Black Welsh Mountain, Clun Forest, Cotswold, Dorset Horn, Jacob-American, Karakul-American, Leicester Longwool, Lincoln, Navajo-Churro, Romeldale/CVM, Barbados Blackbelly, Oxford, Shropshire, St. Croix, Tunis, Wiltshire Horn, Shetland and Southdown.
U.S. producers who own those breeds and are interested, can sign up to be part of SE2SE for a $10 fee. Conservancy members are enrolled automatically with their $45 annual membership fee.
"The grant for the program is for 3 years (through December 2021), but we are hoping to get another grant to keep it going or to make it self-sustaining," Niemann-Boehle says.
For more information, contact her or check out the Livestock Conservancy's rare wool website.
Contact: FARM SHOW Followup, The Livestock Conservancy, P.O. Box 477, 33 Hillsboro St., Pittsboro, N.C. 27312 (ph 815 341-1223 or 919 542-5704; www.rarewool.org; DNiemann@livestockconservancy.org; Facebook: Shave 'Em to Save 'Em).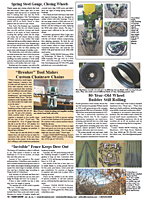 Click here to download page story appeared in.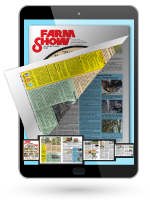 Click here to read entire issue
To read the rest of this story, download this issue below or click
here
to register with your account number.