Curly Karakuls May Be The World's Oldest Sheep Breed
Karakul sheep with their long, curly fleece and tight curls on lambs are still popular after thousands of years. The younger the lamb, the tighter the curl, which means that some day-old lambs are harvested for their pelts. When raised to maturity, the wool is in demand for rugs and felting.
"Persian rugs are made from Karakul fleece," says Deanna Perera, breeder and owner of the American Karakul Sheep Registry (AKSR). "It makes an excellent fiber, very strong, and it wears well. It holds dyes very well with gray fiber dying in vibrant colors."
She explains that Karakuls produce either a single or double coat, with a 3 to 3 1/2-lb. fleece from a single coat adult. Double coat adults produce a 4 to 5-lb. fleece. Prices vary by color and fiber.
"Most fleeces sell for about $5 per lb. off the animal unless they are really super soft or otherwise special," says Perera. "If you shear a yearling, you can get 10-in. long locks with curls on the end."
Perera and others like the double coat for felting. "It practically felts itself," she says. "The inner coat is fine, and the top coat consists of guide hairs. Put them together and it makes a wonderful felt."
Karakuls are native to central Asia and believed to have been raised there for more than 3,000 years. Images of the sheep with the distinctive curly fleece have been found on ancient temples. Perera notes that the lamb pelts are still in high demand in that region. She adds that Karakul meat is very popular with people originally from the region.
"There are non purebred breeders who produce meat for that market," she says. "Often they cross Karakul with Navaho-Churros or other breeds."
In addition to fiber sales, Perera sells her Karakuls for breeding stock. She maintains multiple bloodlines to prevent inbreeding. She says the registry can trace purebred Karakuls bloodlines in the U.S. to the 1930's. She estimates there are only around 20 purebred breeders left in the country and as few as 2,000 registered sheep.
"Those of us who have them are careful where they go to make sure the bloodlines are continued," says Perera. "Most buyers are small farm owners interested in preserving the breed."
Karakuls are a tall sheep breed with ewes ranging from 100 to 150 lbs. and rams running from 175 to 225 lbs. Ewes breed out of season, making 3 lambs in 2 years possible. Twins are not uncommon. They have a strong flocking instinct and will form a circle with lambs in the middle if threatened. However, they do not respond to herding dogs.
"They will not work with dogs, but I can lead mine anywhere with a pail and a little feed in it," says Perera.
Most Karakuls are born with a lustrous coal-black fleece, but many gradually turn brown or a shade of gray. Other color strains can be white, gray or brown at birth.
As keeper of the registry, Perera says she doesn't sell her own breeding stock to people contacting her through the registry website. Instead, she directs them to other breeders. When she does sell breeding stock to a new breeder, she recommends buying a set of 5 ewes and a ram.
"Ewes sell for around $300 each, and depending on his horns and other attributes, a ram can go for $300 to $400," says Perera.
Contact: FARM SHOW Followup, American Karakul Sheep Registry, 11500 Hwy. 5, Boonville, Mo. 65233 (ph 660 838-6340; drperera@iland.net; aksr@iland.net; www.karakulsheep.com) .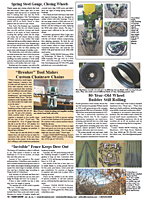 Click here to download page story appeared in.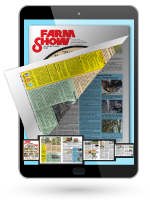 Click here to read entire issue
To read the rest of this story, download this issue below or click
here
to register with your account number.