How To Add Hydraulics To A Garden Tractor
All-around garden tractor handyman Norman Ng says it's easy to turn an old garden tractor into a serious earth moving machine or to convert its manual lift system to hydraulic. Ng says adding hydraulics can multiply a garden tractor's engine power by 1,000 times or more.
    "By using hydraulics a person can equip a garden tractor with a front-end loader, a backhoe, a 3-pt. hitch, a dump trailer and more," Ng says. "All you need to understand is that liquids are incompressible, they transmit pressure in all directions with equal force and liquids under pressure always follow the path of least resistance.
    "Engines in garden tractors have enough power to push hydraulic oil up to 2,000 psi or more," Ng says. "Oil at this pressure going into different size cylinders can handle almost any tool imaginable."
    Ng built a front-end loader and a backhoe for a 1974 Harvester Cub Cadet model 149 in 2015. A reservoir built into one of the loader towers holds the oil. Power came from an 8 gpm pump connected to the engine's front pto. Hoses from the pump ran into a two-spool directional control valve with a power-beyond port. That supplied oil to a 6-spool control valve. Ng's system was set for a maximum 1,000 psi.
    The backhoe uses 6 different cylinders. Two are on the outriggers, one raises and lowers the arm, one moves it side-to-side, another tilts it, and another powers the bucket. Ng says the backhoe works just as good as a commercially-built model. The entire cost for the tractor, loader and backhoe was about $4,000, considerably less than buying one. He adds that he was able to buy some parts at wholesale through his business and make others. He used plans for the backhoe and loader from P.F.Engineering (www.loaderplans.com).
    "Don't think you need big fancy welders to build attachments, because I made the backhoe with a generic brand 140-amp, 120-volt welder that cost me $400," Ng says. "I used cheap angle grinders to cut the steel. The hardest part isn't welding or fabrication. It's planning, measuring, layout and cutting. Be patient and plan, plan, plan before cutting."
    Ng says the same principle he used on the backhoe and loader can be applied to tools such as a forklift, a 3-pt hitch or a snow blade. Instead of using a hydraulic cylinder you'd use a hydraulic motor and add a pto shaft to power the implements. He says you can vary the motor speed by controlling the volume of oil that feeds it from a reservoir, through valves and the device.
    Ng runs an after-market parts business and has basic tech articles on his website.
    Contact: FARM SHOW Followup, Norman Ng, iSave Tractors, P.O. Box 214, Hollis Center, Maine 04042 (ph 207 298-9701; www.isavetractors.com).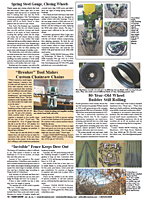 Click here to download page story appeared in.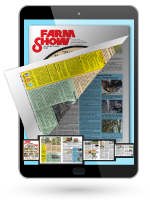 Click here to read entire issue