Continuous-Flow "Biochar" Reactor Built From Scrap
Bruce Saunders turns wood chips and sawdust into biochar with his homemade, continuous flow biochar machine. For anyone who's not familiar with it, biochar is basically charcoal, made from organic material, that's used as a soil amendment and feed additive.
    He used scrap pipe, an old feed mixer, and an old belt conveyor to put it together this winter. Now he is experimenting, feeding the end product to his cattle and using it on crops.
    "I lucked out when I found a 60-in. length of 1/2-in. wall, 5-ft. diameter steel pipe at the local scrap yard," says Saunders. "I mounted the pipe on an old New Holland 352 mixer/mill frame and fabricated up from there."
    The pipe was ideal for his concept. He divided it into 3 levels or floors. Each floor is actually a removable tray with a hole offset from the one above or below and a rake arm attached to a center shaft.
    The shaft extends through all 3 floors and is powered by a 1/2 hp. variable speed motor at the bottom of the machine. A repurposed AC blower pushes air through the hollow shaft to cool it.
    At the top of the chamber, Saunders installed a rotary valve to accept the raw wood as it is delivered by belt. The 18-in. wide, 22-ft. long belt conveyer is powered by a 1 hp. DC motor with variable speed control. When not accepting wood, the rotary valve keeps air out of the machine.
    To start the burn, Saunders adds some feedstock to the top level, lights it with a propane torch and closes up the chamber. The burning material uses up oxygen as it reaches a pyrolysis temperature of 450°F, a process that takes about 20 min. At that point, cellular bonds break, which produces more heat. Saunders shuts off the torch and starts feeding in fresh wood chips or sawdust. As new material enters, the old material is swept down to the next level and then to the third level. The arms and the conveyor are synchronized so the wood spends the same amount of time on each level.
    At each level the decomposition continues as volatiles are pulled off to combust and the temperature reaches its target of 1,292 °F.
    "By the time the arm comes around on the third level to sweep it out, the process is finished, and only charcoal is left behind," says Saunders.
    The time needed can vary depending on the size of material and moisture levels. The speed can be adjusted accordingly.
    "The important thing in making biochar is the consistency of the material in its size and moisture levels," says Saunders. "We could run crop residue through it if it was consistent."
    If he has the process down for making the biochar, Saunders is still proving out its value.
    "Research in Australia and elsewhere shows that cattle fed biochar as a supplement belch less, and take in more nutrients," says Saunders. "Feeding biochar to cattle on feed could shave a month off from start to finish in the feedlot."
    He is also intrigued by the use of biochar in crop production. "It holds up to 5 times its weight in water. One gram of biochar has the surface area of a tennis court. Blend it with manure or compost to innoculate it with bacteria, and you've created a slow release fertilizer.
    "I am open to any number of options, including helping to build other machines under an agreement on sale of the biochar," he says. "Right now I am ramping up production. This machine will have a throughput of more than half a ton per day."
    Contact: FARM SHOW Followup, Bruce Saunders, P.O. Box 871, Millet, Alta. Canada T0C 1Z0 (ph 780 499-9833; bermenergy@gmail.com),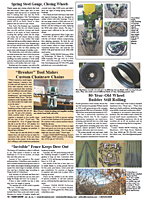 Click here to download page story appeared in.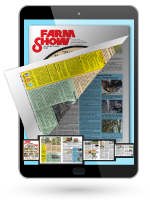 Click here to read entire issue
To read the rest of this story, download this issue below or click
here
to register with your account number.