"Best Buy" Freeze Dryer
Willard and Lisa Arbour, Suches, Georgia: "We love everything about our Harvest Right freeze dryer," says Lisa. "We have a large garden and often end up with more than we can eat fresh. I used to do canning, but the freeze-dried foods take up less space and will keep for up to 25 years."
"When we have more eggs than we can use, we prepare them like we would for scrambled eggs, but we freeze dry them instead of cooking," says Willard. "They come out like a cake which can be broken into pieces or turned into powder in a food processor. When you want to use it, just add one part water to one part freeze dried eggs and cook like you would with fresh. They retain over 90 percent of their nutrients and look and taste like fresh scrambled eggs."
"We freeze dry all kinds of fruits, vegetables, herbs and meats," says Lisa. "It is so convenient. I just cut them up like I would to use them in a recipe, freeze dry them, and put them in a jar or Mylar bag with an oxygen absorber. When I want to use them, I put them in a dish and cover with water for about 35 min. before using."
"We've had our Harvest Right for about 2 years, and we use it constantly in the summer and fall as we harvest our garden," says Willard. "The only drawback is the machine is kind of loud and it does take quite a bit of electricity to freeze dry the food, but it is worth it.
"Customer service from Harvest Right is great," he adds. "We had a couple of issues with it, and they responded right away."
"I really appreciate that what we freeze dry will keep for 25 years," says Lisa. "I go through our pantry once a year and throw out food I canned more than a year earlier. I can end up throwing out 30 to 40 percent, which is a terrible waste. With the Harvest Right, we are no longer wasting good food."
Harvest Right makes 3 sizes of freeze dryers, priced from $1,995 to $2,995. The price includes everything needed to freeze dry and package food. To see the Harvest Right freeze dryer (Vol. 38, No. 6) in action, visit FARMSHOW.com. youtube link: https://www.youtube.com/watch?v=d5LB61kS_RU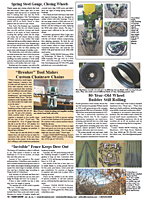 Click here to download page story appeared in.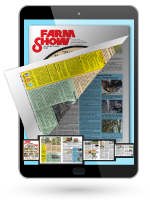 Click here to read entire issue
To read the rest of this story, download this issue below or click
here
to register with your account number.