They're Killing Weeds With Electricity
Electroherb equipment designed to kill weeds with electricity is coming to North America in September. The Brazilian Zasso Group has already opened a division to sell their "digital herbicide" in Germany and is actively looking to do the same in North America. The company offers a wide range of electro weeders from a 1 kW corded unit for gardens and yards to a 1,000 kW unit for fields, roadsides and forests.
    "The technology was originally developed for forestry, but we have done work in fruit, vegetable, grain and soybean production" says Sergio Coutinho, Zasso Group. "We've also done weed control work in urban markets with municipalities."
    Coutinho says the technology is especially appropriate for organic production where there are so few alternatives. It is also a good option in conventional crops troubled by herbicide resistance.
    High frequency and high voltage are produced by the unit and applied through an electrode to the weed, into the roots, and into the soil around it. When a second grounding electrode touches a nearby weed, the circuit is complete and roots and shoots of both are destroyed.
    A variety of application heads, designed for the vegetation to be controlled, deliver the charge to the plant. The "contact only" design means you have to touch the electrodes themselves to be harmed.
    A person standing alongside a plant being "burned" by the equipment is completely safe, even in wet soils.
    Environmental conditions do affect how the electrical energy is delivered. Coutinho explains that you want the same power delivered under all conditions, but to reach that requires more current and less voltage in wet soils. Dry soils require more voltage and less current. Plant type also plays a role.
    "Broadleaf plants have a very large leaf system compared to their root system and are more easily controlled than grasses with their larger root systems," says Coutinho. "Broadleaf plants also have a higher water content."
    Because the energy is transmitted throughout the plant, disrupting cells from plant tip to root, the company claims electro-physical control to be more effective than cultivation. There are no resistant plants, nor is control affected by weather conditions after application. Physical "contact only" control means there is no worry over misapplication or movement off target.
    In addition, weeding near stems of desirable plants is possible. Erosion is reduced compared to cultivation, and there is no impact on water quality.
    In Brazil, units are pto-powered or powered by a stand-alone generator on a trailer or aboard a truck. Coutinho expects a similar setup when introduced in North America. He says the company is working with European tractor makers, who are developing on-board generators.
    "We are very enthusiastic that we are not the only ones looking at electrical applications in agriculture," says Coutinho.
    Due to initial equipment costs, the company plans to lease equipment or offer weed control services, especially in seasonal markets. "While the final cost per acre would depend on the crop, we are currently charging around $20 per acre," says Coutinho.
    Check out a video of the electro weeder at FARMSHOW.com.
    Contact: FARM SHOW Followup, Zasso Brasil, Rua Turquesa 159, Recreio Campestre Jóia, Indaiatuba-SP 13347-070 Brasil (ph 919 251 6320; Brazil +55 19 3936-5050; sergio.coutinho@zasso.de).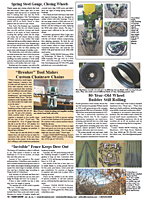 Click here to download page story appeared in.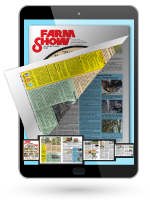 Click here to read entire issue
To read the rest of this story, download this issue below or click
here
to register with your account number.