Guinea Hog Breed Starting To Flourish
The American Guinea Hog has come a long way since FARM SHOW featured the breed in 2007 (Vol. 31, Issue 1). At the time there were only five active breeders, and the landrace breed was considered critically rare.
    It's still rare, but the hogs are now available in most states. Thanks to homesteaders interested in growing their own food and spreading the word on social media, guinea hogs have their own association, the American Guinea Hog Association (AMHA) with more than 5,000 registered animals.
    "What caused them to almost go extinct is what now makes them popular - their small size and high fat," says Deborah Niemann-Boehle, a board member of AGHA, who raises the pigs on a small acreage in Illinois. "Chefs are going crazy for them. They buy a whole pig and break it down to use it all."
    The breed's 250 to 300-lb. mature weight is easier for hobby farmers to handle, compared with hog breeds two and three times as big.
    "Their personality is amazing," adds Niemann-Boehle. "Many pigs are mean, but these are so docile and so sweet. They like belly rubs. We keep the boars with sows sometimes, and they are nice with the babies."
    The heritage pig was developed as a landrace breed in the southeast. They're only 22 to 27 in. tall and fatten easily so it is important not to overfeed them. They're hardy and do well on pasture. Their most defining characteristic is color - all black with occasional white spots on the feet or nose. Because they're a landrace, variations are common on snout shapes and hip size, for example.
    "They love grass and garden produce and we feed them alfalfa hay and brewers grain in the winter," Niemann-Boehle says. They also love acorns and hickory nuts. When there is plenty of food, they don't root, she notes. In late fall, she pens them in an area where they can be fed.
    Sows typically have litters of 6 to 10, and the babies are only about 1 lb. Because of their tiny size, the Illinois couple avoids having litters born in the winter. The breed is hardy, however, and they have never had to deworm their herd, though some other breeders do. Within a year, pigs will be about 100 lbs. hanging weight.
    "I never cared for pork chops before, but I love these pork chops," Niemann-Boehle says. "They are more flavorful and moist."
    American Guinea Hogs also have about 15 to 20 percent fat, which she freezes and renders into lard as she needs it.
    "If you are interested in self-sufficiency, having pigs is the easiest way to produce your own cooking fat," she says.
    With more animals now available, prices have come down to about $200 for a weaned 2 or 3-month-old piglet. With shelter they do well in all climates.
    People interested in more information or finding a breeder should check out the AGHA website.
    Contact: FARM SHOW Followup, American Guinea Hog Association (www.guineahogs.org).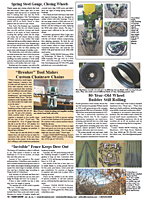 Click here to download page story appeared in.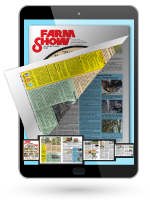 Click here to read entire issue
To read the rest of this story, download this issue below or click
here
to register with your account number.