He Rebuilt Deere 9600 Combine
The first thing Dale Petersohn did last fall after buying a new $140,000 Deere 9600 combine - before he even made one round in the field - was to call George Kuchar, "The Combine Man", to see if he had any specialty parts that would improve performance of the new machine. He ended up paying Kuchar $5,000 to "rebuild" the neverbeen-used combine, installing modified parts that Kuchar said would supercharge performance of the machine.
Petersohn, who farms near Claremont, Minn., had confidence in Kuchar's ability because he'd previously hired him to "Kucharize" an 8820 Deere. He raises 3,000 acres of corn and beans and harvests it all with the one combine so he needed the best possible performance he could get. Thanks to the new Kuchar- concave and separating grate, precleaner, filler plates (especially built for the 9000 series to eliminate vibration by keeping dust out of the cylinder), fan divider (feeds shoe more evenly), and "chaff breaker" (breaks up material coming off the cylinder so it doesn't bunch up on thefront of the chaffer), he says he got what he wanted and paid for the cost of the modifications in the first 1,000 acres.
Kuchar, who headquarters out of Carlinville, Ill., is part of a new breed of traveling technician who eats and breathes combines. He'll travel just about anywhere to refurbish, adjust and coax combines to absolute top efficiency. A farmer himself in North Dakota until 1973, he spent 11 years on the custom combine circuit before he started selling a combine load governor that got him launched into the business of combine troubleshooting.
Kuchar has reworked "at least a couple hundred" combines across the country and figures that demand for his business is as sure as the sunrise. "As long as they keep making combines to harvest more than one crop, and as long as weather and crop conditions change every year, I'll have work to do." His customers often first run across him at farm shows where he uses an actual cut-away combine to display his specialty parts.
Kuchar is so confident of his work he makes a standing offer that he'll do a con-version for free, providing the owner gives him the difference in binned crop from just one harvest. Only one condition: The field check is determined by a weigh wagon in a side-by-side test with an identical combine.
One thing his farmer clients agree on is that he's no fly-by-nighter. "Once you hire George to work your combine over," points out one, "you get a technical adviser who will stick with you. Besides installing parts which correct a combine's weak points, George helps you make adjustments some-times even the dealers don't know how to do."
Kuchar is the first to tell you that he's carrying on the work of the "original combine guru", Ray Stueckle. An Idaho-based ex-farmer, Stueckle gained a national reputation for combine troubleshooting through his combine clinics and columns before his death in 1985. Besides blazing paths for followers like Kuchar, the legacy of Ray Stueckle's expertise also lives on through three books still being offered by his wife Arline.
Another company carrying on the pioneering work of Ray Stueckle is Harvest Services Corporation of Craik, Saskatchewan, Canada, which has been doing a booming business selling modified combine parts since 1979. (Harvest Services markets its line of parts in the U.S. through Joriessen Sales in Rogers, North Dakota.) Like Stueckle and Kuchar, the Wildfong family, which owns the Harvest Services Company, has its roots in years of farming and custom cutting experience.
Rick Wildfong, son of founder Bert, explains: "Until Ray Stueckle came along, farmers tended to take combine performance as something in the hands of the factory. If grain was coming out the back, they figured there was not much they could do. But Ray showed them how combine performance could be improved, and that they shouldn't be afraid to dig in and experiment."
Wildfong's Harvest Services has enjoyed astounding sales increases of 35% to 45% over the past three years, and Rick says that 75% of their sales are of the firm's air foil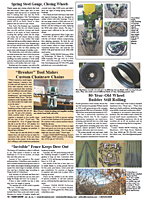 Click here to download page story appeared in.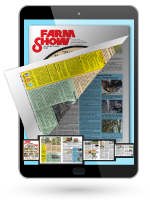 Click here to read entire issue
To read the rest of this story, download this issue below or click
here
to register with your account number.