Tribine Harvester Goes Into Production
After more than 15 years of inching forward in small steps, Tribine Harvester LLC is moving into production with its revolutionary articulated combine. The Newton, Kansas city council approved the plant facility for Tribine in the summer of 2015. The location will house engineering, administration, assembly, testing and shipping. The company says assembly will begin in 2016 and the first production units should be working in wheat harvest by June, 2016.
††††Indiana farmer Ben Dillon designed the machine 15 years ago and worked tirelessly to bring it to production. The front of the machine is an S77 Agco Gleaner combine that connects by a center pivot hitch to a 1,000 bu. grain cart. Each unit has 2 wheels with huge 48 by 72 in. tires. Hydraulic pumps provide full time 4-WD to automatic load sharing symmetrical axles and the unloading auger. The machine has power compound steering articulation. All 4 axles pivot to produce crab steering for easy maneuvering.
††††The Tribine is powered by a 370 hp engine thatís situated on the top center of the harvester, where the grain tank would normally be located. Grain moves from the threshing unit to the trailing grain tank through a 12 in. auger. Chaff and straw blows out the rear of the harvester in front of the grain cart. The 22 in. dia. unloading auger is 26 ft. long to easily reach waiting trucks and unload 500 bu. in about 2 min.
††††On-board cameras allow the operator to look inside the grain tank, at the end of the unloading auger, and at the rear left of the machine for easy maenuvering. Special distance sensors allow the operator to position the unloading auger for dumping into carts, trucks or wagons.
††††Tribine says the machine will be a solid investment for large farmers because it lowers capital cost by combining equipment, saving fuel and reducing labor. Its large tires provide a huge footprint to reduce field compaction compared to traditional harvesting methods. Front and back wheels track together to allow farmers to position fields on tramlines to reduce overall compaction.
††††The Tribine is articulated and turns equally well in either direction. It measures about 14 ft. wide and just over 34 ft. long with an 8-row corn head in place. Pricing will be determined in 2016.
†††† Contact: FARM SHOW Followup, Tribine, 212 N Main Street, Newton, Kan., 67114 (ph 316 282-8011; www.tribine.com).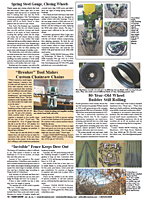 Click here to download page story appeared in.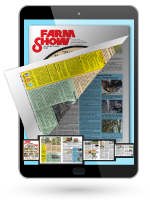 Click here to read entire issue