Help For Handicapped Farmers and Ranchers
Reg Urbanowski, an occupational therapist from Vermilion, Alberta, Canada, believes a handicapped farmer shouldn't have to quit farming if he doesn't want to.
And he's doing something about it. He's writing a book, slated for publication early next year. which will show farmers how they can modify their machinery to accommodate their handicap and continue farming.
The project started in the midseventies in Red Deer in central Alberta. When Urbanowski treated a farmer in his mid-forties.
The farmer had suffered a stroke and the right side of his body was partially paralyzed. I-Ic had resigned himself to giving up farming and selling his farm.
The farmer was reluctant to give up farming, but felt he had no other choice. Urbanowski disagreed and said there was an alternative: Switch all equipment controls to the left and learn to handle them with the left hand and foot. Urbanowski's farmer-patient pursued the idea and continued to work his farm with the help of family members.
A farmer near Fort Saskatchewan, just outside Edmonton, contracted polio as an adult. The disease paralyzed him from the waist down and he was confined to a wheel chair. He had to quit farming in the prime of his life.
But not for long. Using a John Deere tractor equipped with a hand clutch, he hoisted himself out of his wheel chair and onto the tractor seat and once again assumed the operation of his farming enterprise.
In time, he fashioned winches and hoists to get on and off most machinery on the farm. There were two jobs he could not do - seed and haul grain from combine to bin. Fortunately, he had plenty of help from his growing children.
Help from members of the farm family is essential, says Urbanowski. Even with the best of modifications and auxiliary equipment. such as hoists, a severely handicapped man will never be able to perform all farm work.
Urbanowski is gathering case histories of handicapped farmers who stayed in farming to show other farmers. through actual examples, what they can do with equipment to adapt it to their specific handicap.
Illustrations will show in detail what can be done, and how to do it. Urbanowski also intends to visit manufacturers of farm equipment, and manufacturers specializing in the modification of industrial vehicles and machinery to suit handicapped persons, to see whether they are interested in doing something for handicapped farmers as well.
Urbanowski initiated the project but is not working on it alone. Tech. nical advice is coming from Terry Walker, an agricultural engineer at Lakeland College in Vermilion. Carol Miller, an agricultural student at Lakeland College, is his research assistant. Financial assistance has come from the Canadian department of health and welfare. A portion of the grant pays Miller's salary. Urbanowski and Walker are contributing their time to the undertaking.
Most of the team's research is confined to Canada and the United States. But they have contacted people in Europe to find out what is being done there for the handicapped farmer. It is Urbanowski's impression that people there, particularly in England and Sweden, are more attuned to the needs not only of the handicapped farmer, but to handicapped people in general: "There is a greater awareness, generally, of the necessity to enable the handicapped person, and not just farmers, to live as useful a life as possible within the limitations of the handicap," Urbanowski points out.
Some of the case histories he has come across are astounding. For example, there's the case of a severely handicapped farmer in Iowa who carries on his operation with the help of his wife and brother.
A Texas rancher is back in the saddle despite artificial arms and legs:
Urbanowski hopes that examples like these will show other farmers in similar situations that can be done. He also hopes they will be sources of encouragement.
By the same token, if you know of a handicapped farmer who has successfully tackled his handicap, Urbanowski would like to hear about it. There is still time to include case histories in the forthcoming book. And, if you or someone you know is handicapped, and needs help with a specific equipment modification problem. You're welcome to contact Urbanowski. He stands ready to help with ideas and suggestions. For more information. including how to order the forthcoming book. contact: FARM SHOW Followup. Reg Urbanowski, General Delivery, Vermillion, Alberta, Canada T0B4M0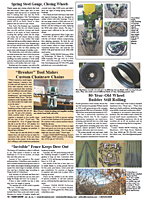 Click here to download page story appeared in.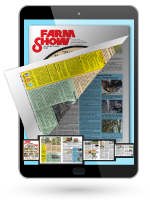 Click here to read entire issue
To read the rest of this story, download this issue below or click
here
to register with your account number.