"Owner's Report" On 2015 F-150
"I've driven Ford pickups for 25 years and every one of the 6 models I've owned has improved on the previous one. My new 2015 F-150 Super Crew Platinum is no exception," says contributing editor Lorn Manthey.
"I drive about 25,000 miles a year over all types of roads and terrain, pull 3 different trailers, and use my trucks for farming and recreation, and I've never had a major breakdown," Manthey says. He and a neighbor do all the required regular maintenance, and he says his 2009 model was the only one that had a problem they couldn't fix: a failure in the wiring system on the driver's seat.
"When Ford announced that the 2015 models would have a lighter aluminum body, I ordered a 2015 Platinum 4-WD Super Crew model with a 6-ft. box and the large Ecoboost engine," Manthey says. "After spending a few hours getting used to the truck, I hooked up my 12,000-lb. dual axle trailer and put the truck to work. Hauling 5 tons of seed and fertilizer was a breeze because the Ecoboost V-6 really has the juice. It's mid-range torque is much better than my previous V-8, and gas mileage pulling that loaded trailer over 200 miles was 15 mpg. In normal over the road driving I'm getting 18 to 19 mpg with 87 octane gas and almost 20 mpg with premium.
"The body of the new Platinum is very sturdy and doesn't have a squeak. I really like the remote power-assist endgate: just push a button and it lets itself down. The grandpa step in the back makes it easy to get into the box. Box lighting is functional for seeing what you're trying to load and unload in the dark. My truck has the automatic running boards that are activated when a door is open, a great feature. Front mud flaps should be added to keep gravel and mud off the boards. The exterior side box step is also great for reaching into the front of the box.
"My truck has the center console and floor shift. The storage area in that console is large enough to hold a full size dog. That's good and bad if you carry a lot of stuff like I do. The cover has a couple nice pockets for storing notebooks and papers and a tray that slides across the interior storage is also great. I really like the large bucket seats that are heated, cooled and adjustable 9 ways to Sunday. Both seats in the back fold up to open a flat floor large enough to carry a big dresser….or a lot of tool cases and extra clothes. My dog loves the area because the vents blow fresh air right over her.
"The instrument panel, like today's phones, laptops and computers, has way more electronics than I'm used to. However, once I learned what was what, they're nice gadgets to have. I can even open and close the sunroof without looking away from the road. The HD sound system is amazing.
"The center LCD screen is a big improvement over my previous 2009 model. The touch screen is divided into modes for Phone, Navigation, Climate, and and Entertainment. A finger to the screen puts every vehicle control imagineable at your fingertips. Better have reading glasses, though, because the text and icon sizes are small for visually challenged adults.
"There's a lot of good to say about the 2015 Ford, and a few disappointments. The driving experience is comfortable, yet soft. Feeling the road at times is a challenge. The truck stops just fine, as long as I really put a foot to the brake. I've done it with an easy push and that's not enough. Another issue I have is with the box, which has an expansion crack on the front, sides and back. My first 10 miles on a gravel road covered the toolboxes with dust. I alleviated most of that problem by filling those spaces with flexible caulk that matches the black sprayed-on bed liner. Problem mostly solved.
"All in all, if you're in the market for a new Ford, the 2015 aluminum body design is indeed 'Built Ford Tough'."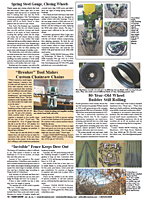 Click here to download page story appeared in.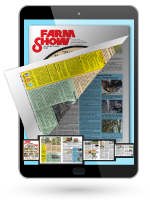 Click here to read entire issue
To read the rest of this story, download this issue below or click
here
to register with your account number.