Beat Inflation: Build Your Own Big Tractor
Maybe you should build rather than buy your next new tractor.
Home-built trams are busting out all over, no thanks to $30 hogs, $2 corn, soaring interest rates and sky-high prices for new tractors and other machinery.
One of the slickest "inflation fighters" we've seen lately is the "Brute", a 250 hp "two wheeler" designed and built by Stan Friesen, 33 year old corn and hog farmer from Mountain Lake, Minn.
"I decided right from the start that a 250 hp tractor would be a lot simpler - and cheaper to build if I went with 2 rather than 4 wheel drive," says Stan, who doesn't agree with professional tractor design engineers at Deere, IH, Massey Ferguson and elsewhere who, up to now at least, have maintained that 190 hp is the practical limit for 2 wheel drive tractors.
Stan figures his 250 hp "2-wheeler", made mostly from parts salvaged in junk yards,, cost right at $10,000 to build, not including his own labor. He figures a new factory made "4 wheeler" of comparable capacity would cost "at least $60,000". He feels he saved a lot of labor and expense by going with simpler, two wheel drive construction: "It's much simpler to hook up since you don't have any transfer cases or center hinging to bother with," he points out.
Here are other "firsts" featured in Stan Friesen's home-built Brute:
• Air over hydraulic brakes, and an airpowered horn.
• Rubber mounts on the engine as well as the cab for a "vibration free" ride, and very little noise inside the cab.
• Riding comfort is further enhanced by a leaf-spring front axle, salvaged from a Rockwell truck axle.
• For a big tractor, the Brute is highly maneuverable, being able to turn "hydrostatically" in a 15 ft. radius.
Parts for the Brute were purchased from junkyards and truck salvage yards throughout Minnesota and Iowa. The frame, for example, is from White and Dodge trucks. The rear axle comes from a Mack 45 ton mining truck purchased near Hibbing, Minn. It's 12 ft. wide and somewhat unusual in that, to use it, Stan mounted the main tractor wheels on the outside, and the duals inside.
The engine is a 855 cu. in. Cummins diesel, producing 250 hp. "If I were doing it again. I'd go with a turbo-charged Cummins to get upwards of 350 hp. ," says Stan.
Using rims salvaged from Steiger and Deere tractors, he hand-made the rear wheels. "It would be simpler to salvage the wheels and rear axle from a Payloader, which would give you the axle and wheels in one unit, and would eliminate having to handmake the rear wheels " Stan points out.
The transmission is a Fuller 10 speed Road Ranger, ranging in speed from 1.5 to 22 mph.
Operating weight of the tractor, with tire fluid and weights, is right at 24,000 lbs. (19,000 lbs. without). Instead of buying bigger equipment to pull behind his high horsepower tractor at 3 to 4 mph. Stanley designed his "2 wheeler" to pull his moderate sized equipment at 6 to 7 mph.
The Brute is equipped with a 3 spool hydraulic system. A small pto coming out of the salvaged truck transmission is sufficient for small loads, such as powering spray pumps. Fuel is carried in two 60-gal tanks, one on each side.
Stan says he has no plans to produce the tractor commercially, and would be willing to print up a set of "how to" plans if there is enough interest to cover printing costs, at about $5.00 per copy.
If you're interested, just drop him a note saying, "Yes, I'd be interested in your plans for a home built tractor." If there is enough interest, Stan will have plans made up and send you a copy, along with an invoice for about $5.00.
Contact: FARM SHOW Followup, Stan Friesen, Route 1, Box 91, Mountain Lake, Minn. 56159.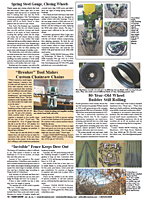 Click here to download page story appeared in.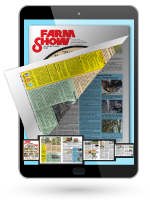 Click here to read entire issue
To read the rest of this story, download this issue below or click
here
to register with your account number.