Rare Breed Produces Great Wool, Meat
Marie Minnich sells her best quality Romeldale CVM wool roving (ready for spinning) for nearly $7/oz. Her flock produces a nearly 200 percent lamb crop, and in addition to in-demand wool, produces a tasty meat. With around 300 head on the farm, that is a lot of wool and a lot of lamb.
"I think Romeldale CVM's are an ideal small flock breed," says Minnich, who especially likes their gentle nature. "I can bring visitors, including children, into the field where we keep rams from yearlings to 9 years of age. They just come up to be touched and petted. The girls are easy to work with as well and even learn their names. Our oldest ewe is 15, and she will come running from the other side of the barn when she hears her name."
Classified as one of the most endangered rare breeds, Romeldales are a cross of Romney sheep from New Zealand and Rambouillets. The breed was started in California in the early 1900's for meat and fine white wool production. In the early 1960's, a Romeldale breeder noticed mutants with colored wool and began selecting for it and badger face markings. The new breed was known as Romeldale CVM (California Variegated Mutant). Colors include gray, black, brown and moorit (reddish brown) and get darker as the animal ages.
"Each new lamb has a unique set of markings," says Minnich, who also serves as secretary for the National CVM Conservancy.
Minnich says Romeldales are easy keepers and can be raised primarily on grass. She feeds a little grain only at lambing and early lactation. Minnich expects 30 percent of first time ewes to produce twins or triplets, with most doing so there after.
"I've heard of ewes lambing up to age 14," says Minnich. "They are good mothers, and we seldom remove a triplet. We had one ewe deliver triplets on her first lambing and take care of all 3 with weight gains of 1/2 to 3/4 lbs. per day."
Even after a ewe stops lambing, Minnich keeps her in the flock for the wool she produces. A mature ewe will produce 5 to 6 lbs. of prime wool (8 to 15 lbs. total) ready for hand spinners. A ram will produce another pound or two. She defines prime wool as having been blanketed all year and completely free of any manure or other material. Skirted wool, including neck wool, is processed and may be used for felt or a rug-type yarn. The poorest quality wool gets used over shredded paper as mulch under trees and bushes.
"Lambs are coated at birth, and other sheep are coated soon after shearing," says Minnich. "Romeldale wool is called 'next to the skin' wool because it is so soft."
Mature rams reach about 225 to 250 lbs. There are 2 groups of ewes, 140 to 160 lbs. or 180 to 190 lbs. Lambs are considered ready for market at 100 to 120 lbs., normally between 9 and 12 months.
Romeldale lamb is noted for its very mild taste, noted Minnich. However, she has had ewes from 4 to 9 years old butchered for her own use.
"It has more flavor than the lamb meat, but not a strong muttony taste," she says.
Minnich sells ewes for $600 each and rams for $500 with discounts for groups. "I prefer to sell several bred ewes as a starter flock," she says.
Contact: FARM SHOW Followup, Marie Minnich, Marushka Farms, 252 Frosty Valley Rd., Danville, Penn. 17821 (570 490-4759; mem@marushkafarms.com; www.MarushkaFarms.com or www.nationalcvmconservancy.org).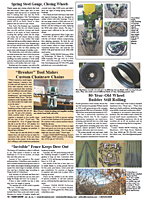 Click here to download page story appeared in.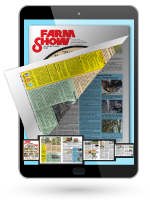 Click here to read entire issue
To read the rest of this story, download this issue below or click
here
to register with your account number.