They Say Switchgrass Is A Viable Farm Crop
Don Nott and his family used to raise several thousand acres of corn, soybeans and wheat in and around Huron County, Ontario. As production and land costs increased and margins tightened, Nott started looking for an alternative. He settled on Switchgrass.
"We know that raising Switchgrass is good for the soil and produces a lot of tonnage per acre," says Nott. "Yields can be 8,000 to 12,000 lbs. an acre, even on marginal soils, and the crop may sell for 6 to 8 cents a pound. Depending on how it's harvested and processed, it can be used for livestock feed, bedding, fuel, mulch and as a substrate for mushroom farming or making organic composite boards. The challenge is finding the right markets and then serving those markets with the product in the form they need."
The Switchgrass trial and error process for Nott and his son has lasted 9 years and counting. "When we first planted it we seeded it direct and it took us 3 growing seasons to reach full yield potential," Nott says. "The income from that approach was about a third of what we needed, so that wasn't the answer." Next they learned that Switchgrass could be seeded with oats or spring wheat as a nurse crop, which gave them grain and straw the first year, and a hearty stand of Switchgrass the next. "That approach looked a lot better financially," he says.
They attempted cutting the grass in the fall after frost, leaving it in the field windrows over winter, and harvesting it in the spring. They baled grass for bedding and feed and tried pelleting the product for fuel. Pelleting was difficult because the grass was too dry and fibrous. Five years ago they sold 5,000 bales of Switchgrass into Ohio, Indiana and Michigan for feed, and that continues to be a viable market. Most of his recent crop has gone to dairies as bedding, although use as mushroom bedding is also popular. "By February, my shed that holds 12,000 square bales is totally empty," Nott says.
Over the years Nott has also learned that they can cut the grass in late summer and harvest it in September, and that it doesn't cost a lot to get a crop established. "For about $60 an acre in seed, plus fertilizer, tillage and planting, the crop can be in the ground," Nott says. "Better yet, there's minimal cost for weed control, fertilizer and harvesting in the years ahead. You don't need expensive equipment for harvesting it. In fact, most of the time the work can be hired. It's conceivable that one seeding with management can be productive for a lifetime, but 6 to 8 years as a rotational crop is also possible. Winterkill or disease doesn't seem to be a problem."
After 9 years of experimenting and refining his production processes, Nott says "I thoroughly believe Switchgrass is the most risk free and environmentally friendly crop a farmer can grow. You don't have to baby it because it's a native grass, something that's been around for hundreds, maybe thousands of years. Growing it regenerates organic matter, makes other nutrients more available for future row crops, breaks up hard pan, reduces compaction and keeps soil where it belongs. During the growing season, Switchgrass also provides great habitat for wildlife, another nice bonus."
Nott says the Canadian government has monitored his Switchgrass fields recently and found that, "we're putting carbon into the soil, not taking it out. We're also eliminating N, P and K runoff into our rivers and streams. Our production costs are also lower because we're not using chemicals and fungicides. It just looks to me like a win-win crop all around as long as we continue to find markets."
Nott says one project the Ontario Biomass Procuers Coop is working on would require nearly 10,000 acres of Switchgrass in the coming years. "New varieties of Switchgrass that grow taller, stronger and faster are making the crop an even more attractive alternative for today's farmers."
Contact: FARM SHOW Followup, Don Nott, Switch Energy Corp., 80171 Kinburn Line, Clinton, Ont. N0M 1L0 Canada (ph 519 482-7561; dnott@switchenergycorp.com).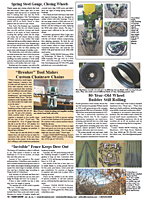 Click here to download page story appeared in.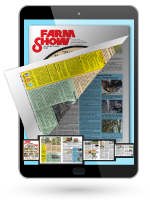 Click here to read entire issue
To read the rest of this story, download this issue below or click
here
to register with your account number.