Innovative Fencing From Down Under
The farm John Wall bought in Southwest Pennsylvania a few years ago needed new fence to control the sheep he planned to raise, and to protect the sheep from dogs. But Wall, a former fence contractor from New Zealand; wasn't satisfied with the effectiveness of barbed wire, or the cost of woven wire. He preferred fences like he had built in New Zealand. Unfortunately, the primary material - high tensile galvanized wire - was not available in the U.S. at that time.
So, rather than compromise, Wall approached U.S. Steel in Pittsburgh and ultimately, they began marketing the wire Wall wanted. Now, high tensile fencing is being hailed as the greatest advance in fence building in many years.
The fence design Wall brought with him and modified for U.S. conditions has been used in New Zealand and Australia for many years. It includes up to 10 strands of smooth, 121/2 gauge, galvanized wire with tensile (pulling) strength of 200,000 psi. Some people say it looks like a barbed wire fence, minus the barbs. Others compare his fences to woven wire without the vertical stays.
Sheep don't like the springy stiffness of the fence. Horses don't either, but they can't get cut or scratched on it as they often do on barbed wire. Cattle charging against the fence simply bounce back- and don't care to try it again.
Each wire is placed under 250 lbs. tension says Wall, who adds that the space between wires is small enough to discourage animals from attempting to crawl through the fence.
Another unusual feature of Wall's high tensile fences is the post spacing - up to 60 ft. on level ground, with pressure treated hardwood "droppers" used to maintain wire spacing between posts. On uneven terrain, or where animal pressure is higher, posts are spaced about 16 ft. apart. Wall recommends driving pressure treated wooden posts to reduce construction time and labor.
Wall has designed a tractormounted, multi-reel fencer to unroll up to 10 high tensile wires at one time. Each reel can hold 150 lbs. of wire (about 585J linear feet). The patented unit is called the Kiwi Fencer and is available from Wall, or through the Forest Products Division of Koppers Company, Pittsburgh, Pa. The price is approximately $1,000.
Jack Knapp of U.S. Steel stresses the need to plan for all possible fence uses before construction begins. He asks: What livestock will the fence control, now and in the future? Must the fence also keep out predators or pests such as dogs, coyotes, deer, racoons, etc.? Will the fence need to be electrified? How long will it be used?
To aid in planning fence construction, U.S. Steel has prepared a 72page book which explains the history and concept of high tensile fence, discusses the need for fences aztd how to plan for them, and explains construction methods and maintenance. It also includes a major section on electrified high tensile fence.
Both Knapp and Wall insists that electrification of key wires in a high tensile fence can provide effective control of dogs, coyotes or deer, and even keep racoons out of gardens. Wall strongly recommends using one of several electric fence controllers being imported from New Zealand and Australia. He notes that the "down under" controllers have a very short duration, high voltage impulse which presents less danger of fire if weeds, etc., happen to contact the wire. They are low impedence controllers and, according to Wall, some can electrify up to 50 or 60 miles of wire. He also says the controllers sold in New Zealand and Australia must meet very strict standards, but he recommends buying units that have been tested in the U.S. and carry the Underwriters Laboratory (UL) approval.
Knapp maintains that the 121/2 gauge wire used in high tensile fences provides less resistance to electric current and is therefore better suited for an electric fence than is smaller diameter wire.
Knapp also notes that the price of high tensile fence is very competitive with conventional fencing. For instance, an 8-wire high tensile fence costs about the same as a regular fence with four barbed wires. But the same high tensile fence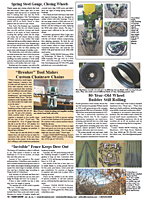 Click here to download page story appeared in.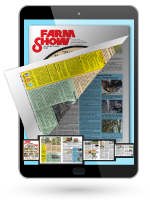 Click here to read entire issue
To read the rest of this story, download this issue below or click
here
to register with your account number.