Got Cast Iron To Weld?
Welding cast iron is easy with Magna 777 rod. Starting at $130/lb., the electrodes aren't cheap but they do what other electrodes can't. They provide perfect machinable welds on nearly all types of cast iron without preheating. The welds have a higher tensile strength than most types of cast iron so they won't crack. It even works on oily and dirty cast iron.
"A customer welded one edge of a steel engine valve to a dirty old cast iron water pump," relates Jimmy Morris, Brecko Corporation, the U.S. distributor for Magna welding rods. "We repeatedly hit the valve stem with a sledge hammer and even dropped it from a 2-story building. The valve stem bent, but we couldn't break the weld."
The rod is popular for repairing any type of cast iron that is not easily replaceable. Morris points to one customer who manufactures racing car engines and uses the 777 rod to repair cylinder heads. It easily handles the extremely high rpm's and compression.
"The 777 also can be used as a transition rod between cast iron and steel," says Morris. "If there is a large gap, the welder can build up a layer of the more expensive 777 and then weld lower cost steel rod on top of it."
The 777 comes in three sizes, 3/32-in., 1/8-in., and 5/32-in. It can be used with either AC or DC machines and doesn't require high amperage.
"The 3/32 and 1/8-in. rods especially work with any cracker box AC welder, even the smallest," says Morris. "The 3/32 requires only 40 to 85 amps, and the 1/8 requires 60 to 100 amps. Even the 5/32-in. rod requires only 90 to 140 amps."
Magna makes other welding rods that are equally unique. Magna 303 steel rods will weld any steel to any steel with tensile strength as great as 128,000 psi. If work hardened, tensile strength can reach 180,000 psi.
Magna 307 rod can be used in wet (non-flammable) environments. It can be used to weld pipes with fluid still in them. Morris says the contact rod is easy to work with in any situation, as the operator doesn't need to maintain an arc distance.
"It is so easy to work with that I could go to any elementary school and in 5 min. any student in the school could be trained to work with it," says Morris. "It is almost like caulking a seam. If you need to weld in a difficult to reach spot, you can even bend the rod to a 90-degree angle without the flex breaking."
Magna 51 is even easier to work with and can be used to attach nearly any type of metal. The low heat rod can be worked like solder with a blowtorch or less.
"We once set a piece of aluminum and one of copper at 90 degrees to each other on a cookie sheet with a length of Magna 51 at the seam," says Morris. "We put it in an oven set at 400°F and shut off the heat when it melted. As it cooled, it hardened, attaching the 2 pieces."
Morris warns that welds with Magna 51 rod have only 16,000-psi tensile strength. It also doesn't flow easily or suck into a joint. Even the flux (required for anything other than aluminum) looks and flows like honey.
"It isn't designed to have much structural integrity, but it works very well where that isn't needed," says Morris.
Brecko sells nearly all Magna electrodes out of open stock. They are available by the piece or the pound. A standard $15 shipping charge is added to orders whether for a single rod or 10 lbs.
Morris explains that Magna welding rod and supplies is a subsidiary of Illinois Tool Works. The special-use welding rods have been around for years; however, marketing has largely been word of mouth, with all sales direct from the distributor.
"Call for prices and to discuss the job," says Morris." We can help you pick the rod that is best for your needs. If we don't have the answer, we can access Magna corporate engineers."
Contact: FARM SHOW Followup, Brecko Corp., 4409 Crawford Dr., 
Abilene, Texas 79602 (ph 325 698-0462 or 800 720-2887; breckocorp@ yahoo.com; www.breckocorp.com); in Canada: Eldon Welding Systems, 41 Scotia St., Winnipeg, Manitoba Canada R2W 3W6 (ph 204 586-8336; eldonwld@mts.net).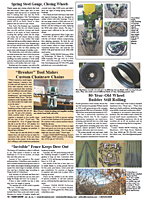 Click here to download page story appeared in.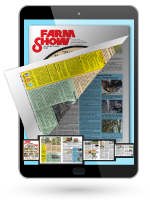 Click here to read entire issue
To read the rest of this story, download this issue below or click
here
to register with your account number.