Rat Hunter Provides Needed Service In California
Jordan Reed gives his terriers an opportunity to do what they're inclined to do anyway - hunt and kill rats. He provides a needed service around Sonoma and nearby counties in northern California.
Through word of mouth and recent media attention, "Jreed and his Mongrol Hoard" have found plenty of demand for their services over the past 5 years. For about $75 (and a case of beer) Reed and his dogs spend 3 or 4 hours diminishing rat problems for mostly small farmers with chickens, organic crops or composting facilities.
Concerns about rats are real, Reed says, noting they destroy feed, chew wiring and defecate in living spaces, spread diseases, steal eggs and kill chicks and other small animals. Rats thrive in California's warm climate, but many producers can't or don't want to use poison.
Using dogs is more natural and fast, but not something everyone can do.
Reed, a South Carolina native, loves to hunt and says rat hunting gives him an opportunity to let his dogs off their leashes to do what they love to do.
His rat hunting business evolved after a terrier he owned killed rats that were after Reed's chickens. Reed started encouraging other dogs to do the same.
"We do a lot of training with puppies," Reed says. "We let them play with dead rats and bring them on hunts, but we don't allow young dogs to try to kill because they can get hurt."
The terriers are socialized with chickens, cats and other dogs so they aren't in hunting mode when they meet them.
"Never get more than one dog at a time to train," Reed says, adding that a trained dog greatly helps training a new dog.
While the dogs are good hunters, they need human help to choreograph where they go. When Reed is hired, he requests the customer provide a couple of adults or teens to help. If they can't, he brings a couple of friends along for an extra fee.
"I follow the lead of one adult dog. I'm like the ringmaster," Reed says, directing dogs. "I have experience to see how much food is available and how many rats there might be." He also knows where they're hiding - under pallets and bales, and in double walls, for example.
On average he and his dogs find and kill 20 to 30 rats on a hunt at a small farm. Reed's record was 121 rats at a compost facility, where owners thought it was rat-proof.
No place is rat-proof, Reed says, and he turns clients down who have filthy farms and poor animal husbandry practices or refuse to clean up their property and make necessary improvements - build coops 18 in. off the ground, eliminate double walls, store food in metal cans overnight, and don't store kitchen compost near housing, for example.
Norway rats also live in tunnels and can hold their breath a long time so drowning doesn't usually work. Exhaust from a chainsaw or vehicle is more effective to show where tunnels go. Then the strategy comes down to blocking exits and digging with a shovel.
Reed says property owners can use other breeds of working farm dogs to control rats on their own property.
"If you're looking for a rodent dog, get a terrier from a farm where its parents' behavior is observable. Mixed breeds and pound dogs are good at this too," he explains. "You have to be interested in it yourself. You have to actively take a part in going after the rats on your farm - and your dog must be interested in following along."
Reed emphasizes that he does not breed or sell dogs. He sells services through word of mouth, Craig's List and by clients messaging him through his Facebook page.
Rat hunting is not for everyone, Reed admits and it's hard work - shoveling, moving things and keeping track of as many as 12 dogs at a time when he is working with others. But it's rewarding to see his dogs at work and enjoying it - and to hear from grateful customers such as the chicken owner who reported an increase in eggs after Reed and his dogs eliminated rats from her farm.
Contact Jordon through Facebook. Search: Jreed and his Mongrol Hoard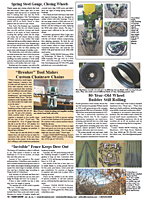 Click here to download page story appeared in.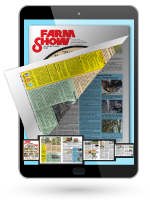 Click here to read entire issue
To read the rest of this story, download this issue below or click
here
to register with your account number.