Grain Drill Fitted With Giant Roller
Unhappy with conventional grain drills, Wisconsin farmer Steve Johnston built his own "roller-seeder" equipped with a giant concrete-filled roller and a pair of seed boxes - one in front and one in back.
"It works better than any conventional grain drill on the market for planting small grains, soybeans, alfalfa and grass seed," says Johnston, of Hillpoint.
A row of field cultivator shanks mount ahead of the front seed box, a spring-tooth harrow runs ahead of the roller, and a row of chains drag behind the back drill to cover seed. Johnston plants grains and beans out of the front drill boxes and alfalfa or grass seed out of the back.
"I built it because I didn't like the depth control on my conventional drill. It planted too deep in soft ground and wouldn't cover seed consistently in hard ground. Also, the double disc openers tended to kick rocks up out of the soil and throw dirt around the drill, hurting seed placement.
"My roller-seeder doesn't have any disc openers so I don't have to worry about rocks - the roller pushes them down out of the way. I plant 10 to 15% more seed than I would with a grain drill. Seed is scattered randomly out of the seed tubes. I don't plant in rows because I wanted to distribute seed more uniformly for higher yields. After the crop comes up you can't even see any rows. The field looks like it was seeded by an airplane," says Johnston.
To make the 2-ton unroller, Johnston bought a new 30-in. dia., 12-ft. long steel culvert and filled it with concrete, then cut out a pair of steel plates and welded one onto each end of the roller to seal it shut. A steel shaft goes through the middle of the roller, which mounts on a heavy steel frame.
He bought an old 10-ft. ground-driven Minneapolis Moline grain drill from a neighbor for $35. He removed the seed box, lengthened it 1 ft. and mounted it just ahead of the roller. He removed the double disc openers and steel wheels and chain-drives the drill off a sprocket on the shaft on the roller. The seed box off an old alfalfa seeder is mounted just behind the roller and is chain-driven off the grain drill shaft.
Seed from both seed boxes drops out of tubes that end about 14 in. above the ground. Seed from the grain drill seed box is pressed down into the soil by the roller. Seed from the alfalfa seeder is covered by the rear chain harrow.
"I used it last year to plant soybeans, alfalfa, oats, and winter wheat and got good stands on all my crops except for the soy-beans. They weren't covered as well as I'd like. I spent about $1,700 to build it. A new commercial drill of comparable size sells for at least $10,000.
"Despite its size, it doesn't compact soil much because the weight is dispersed over such a wide area.
"So far I've used it only on tilled ground. However, I plan to use it this fall to no-till into wheat stubble. I pull it with my 100 hp International 856 tractor which has all it can handle. I go about 6 to 6 1/2 mph. If I had a bigger tractor I'd probably go 7 to 8 mph.
"The seed boxes are 11 ft. wide but I made the roller 12 ft. wide so it it would cover seed that scatters outside the ends of the seed boxes.
"I used a new piece of culvert because I wanted one that wasn't dented up so the corrugated grooves would make furrows in the soil to prevent erosion on hills. I placed steel reinforcing rods at intervals inside the concrete to keep it from cracking and used an air hammer to vibrate the concrete to force it into the corrugated ribs."
The grain drill drive shaft is disengaged by a hydraulic cylinder mounted in front of the seed box. A hydraulic cylinder connected to a lift bar with a chain on the end of it is used to raise or lower the row of cultivator shanks.
He used part of an old semi truck frame and 8-in. box steel to make the main frame. Each end of the shaft inside the roller is mounted on a big pillow block bearing that's mounted in a saddle welded to the frame. A spring-loaded scraper running the length of the rollerkeeps mud from building up in the culvert's grooves. Johnston made the big scraper by cutting notches in a flat piec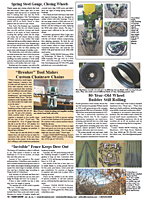 Click here to download page story appeared in.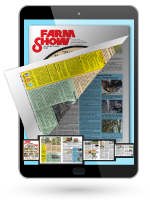 Click here to read entire issue
To read the rest of this story, download this issue below or click
here
to register with your account number.