Rare Collection Of Antique Garden Tractors
1955 Sears Craftsman 3-wheeler. Powered by a Craftsman 2 hp, 2-stroke Power Products engine, this tractor was originally designed to pull a reel mower. It weighs only 110 lbs. "This tractor doesn't have a reverse gear, but it's so light that you can push it backward with your feet as you're sitting down," says Gittins. "The operator uses a clutch lever connected to a belt tensioner to go forward. Brakes were optional. To stop, you put your feet down on the ground just like Fred Flintstone."
    1960 Wheelhorse Suburban 550. The Suburban 550 was powered by a 5 hp Tecumseh engine and equipped with a 32-in. mower deck. Gittins's model still has the original tires. "The engine is located under the seat, and as a result it can get a little warm on your private parts," says Gittins.
    1953 Bantam 14 3-wheeler. The small Bantam 14 is powered by a 5 hp engine and belt-driven transmission and has a hand-operated clutch. "The cast iron steering wheel was unique to the Bantam," says Gittins.
    1942 Steel-Wheeled Speedex B. Gittins's Speedex B is powered by a Briggs & Stratton Z 6 hp engine and has a cylinder-shaped gas tank mounted high off to one side. The engine belt-drives a Model A transmission and a narrowed-up model T rear end. The driver uses a long lever on one side to steer. "You pull the lever to turn left and push it to turn right," says Gittins. "To go forward you push the clutch in with your foot, which takes some getting used to. The tractor has individual pedal brakes, and there's a lever on back to lift attachments."
     1954 Copar Panzer A 3-wheeler. The frame on the Panzer A is made from 2 long steel pipes. The tractor rides on big 7 by 16 lugged rear wheels and a smaller single front wheel. It's powered by a Briggs & Stratton 6 or 8 hp engine and came with a narrowed-up Chrysler car rear end and a belt-driven, 3-speed transmission with 3 different size pulleys. "To go faster or slower you just changed the belts," says Gittins.
1955 David Bradley Tri-Trac. Unlike most 3-wheelers, the David Bradley Tri-Trac rides on 2 wide front wheels and a single rear wheel. It was designed to pull a 1-bottom moldboard plow. Power is supplied by a Wisconsin AKND 6 hp engine. "This tractor wasn't particularly popular in its day," says Gittins. "The company built 3,000 AKND's, and it took 7 years to sell them all.
    "The 3 wheels and long wheelbase made it tippy when turning, so the company tried to compensate by installing front wheel weights. The tractor didn't come with a differential. Instead, it has a forward and reverse variable speed transmission that works like a snowmobile clutch. Levers at the base of the steering column are used to control the clutch and throttle. Other levers are used to lift the plow and to adjust plow depth."
1958 Lawn Boy Loafer. The Loafer was Lawn Boy's version of a riding mower and came with 2 engines. One engine drives a 2-wheeled dolly that pins onto the back side of a 22-in. deck, and the other powers the deck blades. A lever is used to adjust ground speed. "The deck doesn't have a throttle and always runs at 2,000 rpm's," says Gittins.
    "The Loafer is real lightweight, which makes it easy to pick up. Both the dolly and deck ride on semi pneumatic wheels, at a time when most other tractors rode on pneumatic wheels. By replacing the deck with a pair of wheels, the operator could quickly convert the machine into a 4-wheeled tractor."
    Contact: FARM SHOW Followup, Ron Gittins, 3205 Darrow Ave. S.E., Buffalo, Minn. 55313 (ph 763 972-2076).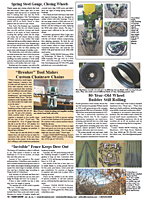 Click here to download page story appeared in.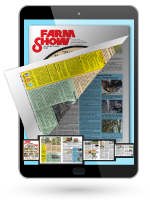 Click here to read entire issue
To read the rest of this story, download this issue below or click
here
to register with your account number.