Cactus Thrive On Barren, Toxic Ground
If it weren't for prickly pear cactus, John Diener wouldn't know what to grow on about 100 of his California farm's 5,000 acres. The salt, selenium and boron levels in the soil, combined with the lack of water, make it nearly impossible to grow anything else.
So what do you do with prickly pear cactus? Turns out it's nutritious. Hispanic consumers peel the prickly leaves, which taste a bit like asparagus.
"The fruit is sweet, but it has lots of seeds," he says. "The pulp can be made into a powder for a nutrition-rich drink."
Diener gets technical assistance for research and development from Gary Bańuelos, an Agricultural Research Service plant/soil scientist with the USDA.
Bańuelos has worked with Diener for 20 years, analyzing plant nutrition and growth responses to poor quality growing soils in order to develop 4 (patented) cultivars that tolerate salt and boron, and are stickerless.
"One of the benefits is that they take up small quantities of selenium. Research indicates that selenium is an antioxidant that can be beneficial for things such as intestinal cancers."
Diener grows a variety of crops on his good soils – from vegetable crops to grapes, to almonds, wheat and alfalfa. With California's strict regulations about not discharging any toxic material (including selenium) into the state's water system, Diener tiles his salty/selenium soil, captures the water, and mixes it with fresh water in drip irrigation on about 10 acres of cactus plants.
The cacti are planted like an orchard in rows 12 ft. apart. Full grown, the cactus plants can reach 10 ft. tall and spread out 5 ft. About their third year, they start to bear fruit for about 15 years. Fruit colors range from yellow, green, orange, red and purple, and the fruit is similar in texture to kiwi, but with bigger seeds. Some consider the prickly pear cactus fruit a natural laxative, Bańuelos says.
As he and Diener work together on the best growing practices, they continually face one challenge.
"The gophers are a pain in the root," Bańuelos says. No matter if the plants are small or large, pocket gophers do their damage underground, chewing on roots and killing the plants.
Despite the challenge, the cactus provides an opportunity to grow a crop on hundreds of acres in the San Joaquin Valley's west side that would otherwise be barren, Bańuelos says.
Diener's goal is to make it profitable, and he has started developing a market for processed cactus fruit as a supplement. If things go well, he has another 80 acres of similar ground to plant. He also grows 10 acres of vegetables such as broccoli, cabbage and kale that pull organic selenium from the soil.
"It's taking a negative piece of the farm and trying to make a positive out of it," he says.
Contact: FARM SHOW Followup, John Diener, Red Rock Ranch, P.O. Box 487, Five Points, Calif., 93624 (ph 559 884-2234; redrock_ranch@yahoo.com); or Gary Bańuelos (ph 559 596-2880; gary.banuelos@ars.usda.gov).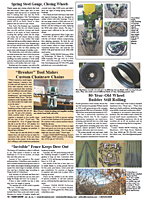 Click here to download page story appeared in.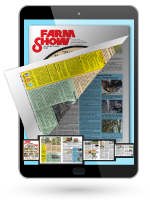 Click here to read entire issue
To read the rest of this story, download this issue below or click
here
to register with your account number.