His Sideline Business Is Cleaning Combines
If you're looking for a new sideline business to keep busy during the off-season, you might want to consider cleaning combines, says David Huppert of Bay City, Wis. He hauls a big diesel-powered air compressor on a trailer behind his pickup, and uses it to clean dusty combines for local farmers. He uses 3 different homemade wands measuring 2, 4 and 6 ft. long.
    "I started cleaning combines as a sideline business 11 years ago, and it has grown over the years to where I now work on about 60 combines a year," says Huppert. "It's a good feeling when you leave the farmer's yard and you know that person is excited about having his combine clean again."
    The big Ingersoll Rand compressor is powered by a Deere 4-cyl. diesel engine and delivers about 185 cfm's. It comes with a big rubber hose fitted with a 3/4-in. dia. copper wand and a brass valve.
    "You wouldn't believe how much chaff and stalks and leaves there are on a typical combine. I try to get all of it out," says Huppert. "I ask the farmer to park the combine in an open area where I can determine the true direction of the wind, and then face the combine so the dirt blows away from me as I'm working. The compressor delivers such a high volume of air that I hit the dirt once and it's gone. It's a noisy, dirty job so I wear ear plugs and a mask when I'm working."
    He relies strictly on word of mouth to get new business. "My customers do more advertising for me than I ever could. Some people are so happy with my work that once I've finished the job, they write out a check for more than what I originally quoted."
    One of his customers does a lot of custom work and owns 4 big combines. "Last year he harvested well over 8,000 acres, so his combines get dirty in a hurry. We cleaned his combines right after he finished harvesting beans and before he started on corn."
    A clean combine pays because it can prevent fires and keeps mice and other rodents out, says Huppert. "My philosophy is that you want a combine clean when you put it away."
    The feederhouse is one area that often gets loaded up with dirt and chaff, he says, "and no matter what color the combine, debris always collects around pulleys and behind the radiator fan. That creates a vacuum that can cause the radiator to plug solid with chaff and leaves. Any of the homemade wands I use can reach into holes the size of a soup can or smaller."     
     He says his high volume compressor works a lot better and faster than shop air compressors or leaf blowers, which just don't have enough air volume.
    He says it takes about 2 hrs. to clean a typical 12-row combine. "My compressor burns about 3 gal. of diesel per hour of fuel, so it takes about 6 gal. of fuel per combine."
    He charges according to the size of the combine, starting at $130 for a 6-row model and going up to about $200 for a 12-row.
    In addition to cleaning combines, Huppert also works on round and big square balers as well as self-propelled silage choppers. "Last spring I worked for a farmer who still had standing corn that he couldn't finish harvesting the previous fall. After he finished combining he used his round baler to bale corn stalks for bedding, so he asked me to clean his combine and baler at the same time."
    Huppert says he can offer the customer one more advantage. "I grew up around combines, so if I see something that's mechanically wrong while I'm working, I'll tell the customer."
    Contact: FARM SHOW Followup, David Huppert, W6596 150th Ave., Bay City, Wis. 54723 (ph 715 307-3874; davesara06@hotmail.com).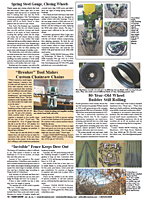 Click here to download page story appeared in.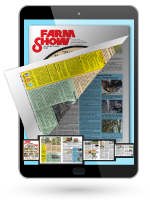 Click here to read entire issue
To read the rest of this story, download this issue below or click
here
to register with your account number.