JB Tractors: "The American Dream"
This is our story:
We are from the Netherlands where our family has had a tractor company for over 35 years, selling tractors worldwide. In 2001 we made our first trip to the USA. Not for vacation but to fix a tractor we sold in Brandon, Minnesota (which is about 8 miles from where we are located now). We stand behind our tractors, and give a warranty, even if we sell to the other side of the world. So when this "New Holland 8670" broke down, and the dealership wanted too much money to fix it, we thought it would be better to fly over with a suitcase full of parts, and fix it ourselves. Even though we were only 19 years old at the time!
We found a repair shop in Millerville, Minn., we could work in. When the owner of the repair shop, George Bitzan, first met us, he laughed: "A couple kids are going to fix this tractor?" But with the help of George, we had everything running again within a week!
After getting to know George a bit more, we found out he wanted to sell his shop. Without any hesitation, we bought it!
"Selling tractors in America. Who wouldn't want to do that?" Coming from such a small and crowded country, America is truly is a dream! The Netherlands has a population of 18 million, and it's only a third the size of Minnesota, so you have no idea what we went through our minds when we first came to the states. Everything is huge! Big farms! Big lakes! Everything's just big! And Minnesota truly is beautiful with all the lakes and hills. And not forget to mention the people. For a couple of "foreigners" to start a company in such a small town like Millerville (population 115), we thought it would be hard to find friends and meet new people. But we were wrong. Everybody was so nice and hospitable, they made us feel at home right away.
Now 12 years later, we are still very impressed with this country and its citizens. Every day we meet and talk to new people. Everybody is always very interested in our story, coming from a different country. And there are so many people we talk too who have their ancestors coming from Europe - Germany, the Netherlands, Norway, etc.
We have learned so much in the past years, and one of the most important things would be "the relationship" with our customers. Because it's not just selling a tractor and "goodbye". It's about trust. We want our customers to be 100 percent satisfied. And the best way to sell a tractor is when a customer walks in and says, "My neighbor bought a tractor from you guys and he was really satisfied." That's the best advertisement there is! And that is our goal.
We are a young company that continues to keep growing. It's very important for us to have a good relationship with our customers. There are too many companies that are getting too big and losing the personal touch. But what business really is about, is people and relationships. And that is our main focus, because we love what we do and want to keep selling tractors for many many years.
We would like to thank all of our customers and friends that have made us who we are today, a successful tractor company!
"And to this day we are grateful for the New Holland 8670 that broke down in 2001, that brought us to America."
For more information about us, please don't hesitate to call, email or visit our website jbtractors.com we have tons of pictures and video's on there, or if you do not have internet, just call and we would be happy to send you pictures and information by regular mail as well. Thanks!
Contact: FARM SHOW Followup, JB Tractors LLC, 16634 County Rd. 156 N.W., Brandon, Minn. 56315 (ph 320 876-2264; www.jbtractors.com).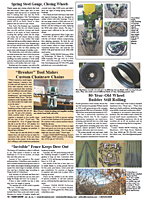 Click here to download page story appeared in.
To read the rest of this story, download this issue below or click
here
to register with your account number.