"Pickup" Tool Has 4 Tools Welded Onto It At The The Bottom
    Ken Grazier, Havre, Mont.: "I made a 'pickup' tool that really comes in handy around my place. It has a magnet at the top for picking up nails, bolts, and other small parts. It's 4 1/2 ft. long and made from a length of 5/8-in. conduit. There are 4 tools welded onto it at the bottom – a J hook, a pliers, a screwdriver 'poker', and an open-end wrench.
    "I used a 3-in. long cow magnet mounted inside a short length of light channel iron on top, then screwed the channel iron onto the conduit. I added a short wooden handle that slips down over the conduit and is riveted to it, making the tool more comfortable to carry around.    
    "The spring-loaded pliers at the bottom are attached to a cable that runs up through the conduit to a metal ring at the top. The pliers stay open until I pull on the ring. When I let go of the ring, the pliers automatically open back up. I also welded on an open-end wrench and a bent screwdriver. I use the pliers to pick up trash, the open-end wrench to dig out dandelions, and the screwdriver to pick up trash and also to dig out dandelions."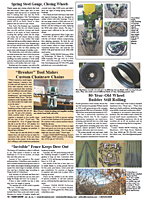 Click here to view page story appeared in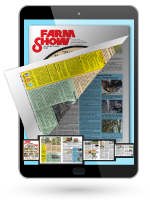 Click here to read entire issue