Do-It-Yourself Stills For Alcohol, Essential Oil
You can make your own brandy, vodka or whiskey – as well as essential oils for flavoring and scents – with a wide range of stills from Ranier Distillers. With sizes ranging from do-it-yourself home models up to commercial units, Anthony Zaca says demand for stills has been growing rapidly, especially for home-sized units.
    "In the last 18 months, interest in being self sufficient has increased unbelievably," he says. "Everyone from 20-year-olds to baby boomers are calling."
    Zaca notes that once alcohol has been distilled from a mash, it can be used for everything from drinking to fuel for cooking or transport. He describes distilled spirits as a liquid asset with a ready market. However, in the U.S. it's heavily regulated.
    Alcohol distillation is taxed and regulated by the Alcohol and Tobacco Tax and Trade Bureau. Use of a still for alcohol for home fuel use requires a permit, but is not subject to a tax. Stills with capacity of a gallon or less can be used without permits or tax for water distillation and production of essential oils through steam or water extraction.
    Legally producing alcohol with stills requires qualifying as a distilled spirits plant. Commercial craft or micro-distilleries have been popping up all over the country producing regional spirits. The American Distilling Institute says the number has risen from 50 to more than 280 since 2005 and they're now operating in 45 states.
    Zaca suggests getting a fuel alcohol production permit when first learning to use a still. He offers a low cost, air-cooled still for only $135. It's a very basic unit made in South Korea, where it's largely used for water distillation. If used for alcohol, it requires multiple runs as the first distillation will produce 35 to 40 proof alcohol. It can also be used for essential oils.
    The company's other stills are all handmade using traditional copper components. Most are custom-designed for commercial operations. However, he also sells component parts, kits and ready to go systems for both pot and tower stills.
    "The Ultimus 2-in. is a handmade copper still that can be used with electricity, propane or over an open fire," says Zaka. "It's priced at $545 and will outlast the owner. It has no moving parts, and if you can heat it, you can run it."
    Zaka also makes the Alchemist line of ready-made stills for micro-distillers. It comes in 2, 3 and 4-in. sizes. The 2-in. Alchemist with a 15-gal. boiler and distillation tower will produce a gallon of 75 to 80 percent alcohol an hour or a liter of 92 percent alcohol per hour, which is the minimum needed for cooking or transport fuel. It's priced at $610.
<
    Although all the stills can be used for essential oil production, Zaka also makes a still designed specifically for that purpose. It can hold 6 to 7 lbs. of herbs, flowers or other plants.
    "Regardless what you want to distill, it's simple," says Zaka. "If you can do pressure cooking, it's the same principle."
    He warns readers that handmade copper stills require a minimum of 4 weeks for delivery. The starter-size still requires only a week wait.
    Contact: FARM SHOW Followup, Rainier Distillers, PO Box 7530 PMB 12, Yelm Wash. 98597 (ph 360 350-9177; anthony@rainierdistillers.com; rainierdistillers.com).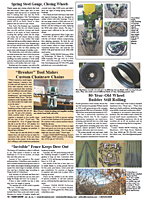 Click here to view page story appeared in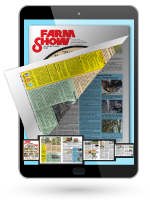 Click here to read entire issue
To read the rest of this story, download this issue below or click
here
to register with your account number.