He Uses Rain Gauges To Check Center Pivot
"We rotate our cattle every day on pasture that's irrigated by center pivots. Worn nozzles can make a big difference in the uniformity of water output, so we use rain gauges regularly to see which sprinkler nozzles should be replaced," says Idaho rancher Jim Gerrish.
He says a new center pivot is very uniform in its distribution of water. However, the water Gerrish uses comes out of creeks from mountain snow melt so it's gritty which scours the nozzles.
"We put new nozzles on our pivots only 4 years ago, and when we checked their output this year I was shocked at the variation across the pivot," says Gerrish. "There was a 20 percent variability from nozzle to nozzle. That means if the pivot is set to apply an inch of water every 3 days, we were actually getting somewhere between 0.8 and 1.2 in. on most of the nozzles. The 10 percent of the nozzles that don't fall into that standard deviation might vary from as little as 0.5 in. to more than 1.5 in. You may think you're putting on X amount of water, but you might not be getting that at all."
He uses multiple rain gauges and moves them as the pivot moves, checking them periodically to see how much water the nozzles are actually putting out.
"Using rain gauges gives us a heads-up if some nozzles start to wear too much and need to be replaced. Keeping the nozzles in shape lets us get more out of every inch of water available," says Gerrish.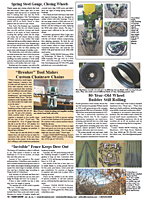 Click here to view page story appeared in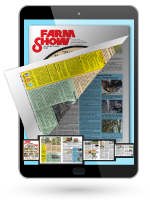 Click here to read entire issue
To read the rest of this story, download this issue below or click
here
to register with your account number.