Decoy Dogs Lure Coyotes To Hunters
Gary Strader says his coyote-hunting dog, Toby, had the right balance between aggressive and passive behavior, which made him the perfect coyote hunting decoy dog.
Toby, now deceased, was a Dorn, developed by Vern Dorn, from three breeds for specific traits: Australian Shepherd for intelligence and herding instinct, Plott hound for its good nose, and Airedale Terrier for stamina and grit.
Strader, a lifelong hunter and trapper, first hunted with Dorn dogs with a friend in Montana and was impressed with the breed. After Vern Dorn died, Craig O'Gorman continued to breed Dorns, and Strader purchased Toby in 1998. They became best friends and hunted together for 11 years.
The idea is for the dog to get close to the coyote, engage the coyote, then tuck his tail and lure the coyote to the hunter.
"You don't want a dog that is too aggressive or too docile," Strader says, noting other breeds will work for coyote calling. "If a dog is smart enough, he will learn."
He suggests using dogs that aren't too big, about 25 to 30 lbs, so they don't intimidate coyotes.
"When picking a name for a dog, try to pick a name with a long vowel in it," Strader says. "They can hear longer vowels at a greater distance."
Toby was the "friendliest dog in the world," and a natural decoy dog. He rode in Strader's pickup passenger seat and watched for coyotes. Strader learned to read Toby's body language.
Toby was good at reading the level of coyotes' aggression and responding accordingly.
"It's in a dog's DNA to chase, but we want a coyote calling dog to get coyotes to chase it, so this is total role reversal for the dog," Strader says.
Strader notes that a dog learns that through experience or from hunting with another dog. The dog's intelligence and training determine if it's a good coyote decoy. Good ones are rare.
Strader starts training by letting the pup chew on coyote legs and hides as soon as it has teeth. As it grows older he lets it interact with a coyote in a trap.
Strader teaches the basics: sit, come, lie down and to watch and go where he points. When he sees a coyote, he growls so the dog learns there will be action, which always gets their attention. He trains the dog to go to a coyote howl by using a caller with a treat in front of the speaker.
For more information about decoy dogs and coyote hunting and trapping, Strader has written a book, Master Wolfer, for $25.
Contact: FARM SHOW Followup, Gary Strader, BG Ranch, HC 32, Box 532, Quemado, New Mexico 87829 (ph 505 286-6472; nmwolfer@higherspeed.net).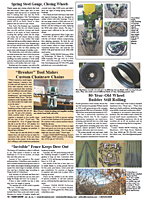 Click here to view page story appeared in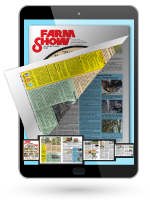 Click here to read entire issue
To read the rest of this story, download this issue below or click
here
to register with your account number.