Steam-Powered Car
When an unexpected death left a family with a couple of steam engines and other components, David Brazeau bought everything and went to work creating a steam-powered car.
    "Jack Hanes, the previous owner, had planned to use one steam engine to power a car," says Brazeau. "I decided to finish the job, putting a boiler in back and the steam engine in front."
    Hanes had already built a chassis with the front and rear axles in place. Brazeau chopped a drive axle with differential from a junked Buick Opal, cutting it to fit between the frame sides and beneath the steam engine.
    "I turned one axle on my lathe so I could slip a roller chain sprocket on it," says Brazeau. "The roller chain runs to a sprocket on the steam engine."
    He then attached a 4-speed transmission with a band-type parking brake from an early 60's pickup truck to the differential where the driveshaft would have connected. A driveshaft connects the transmission to the differential on the rear drive axle.
    "I use the parking brake as a clutch," says Brazeau. "To start up, I just release the parking brake, put it in gear and away it goes."
    He added a steering wheel he picked up at a junkyard and fabricated the linkage. The steam engine and boiler needed very little work.
    "I had to redo the plumbing to bring it up to code," says Brazeau.
    The only other changes were largely cosmetic, such as adding a wooden bench seat.
    The steam car worked so well that Brazeau took it out on the road. "We got it up to 25 mph before it started rocking because of the water in the boiler and because it was so top heavy," he recalls. "I think it could have gone 40. I changed the sprocket to slow it down."
    Brazeau recalls stopping at the local McDonalds for a burger and getting in trouble with the police. "We couldn't go through the drive-thru because of the height of the stack, so we parked it," he says. "When we headed back on the road, a policeman stopped me for not having a license plate or windshield. However, he didn't give me a ticket because he didn't think it qualified as a car."
    Contact: FARM SHOW Followup, David Brazeau, Mondovi, Wis. (ph 715 829-5868 nights only; shed2small@hotmail.com).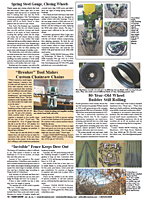 Click here to download page story appeared in.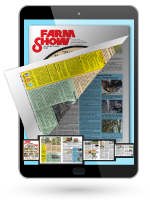 Click here to read entire issue