Million Mile Dump Truck Still Looks Like New
Ron Peck has driven nearly 1.1 million miles delivering gravel with his Keystone Lime Co. Ford dump truck. They weren't easy miles. The company quarry is on the west side of the highest point in Pennsylvania, and most of the rock gets delivered to the east side of the mountain, explains Peck.
    "We've had as much as 260 in. of snow in the winter," he says. "The engine is either pulling up hill or you're riding the Jake brakes down the other side with lots of twists and turns."
    Bought new in 1995, the truck has a 450 hp, 3506C engine. It has a gross vehicle rating of 75,000 lbs. and a load rating of about 23 tons. Peck reports as many as five 80-mile trips per day with minimal problems.
    "The truck's longevity has to be credited to Ron's regular maintenance, including oil changes and greasing and treating it like it was his own," says Melinda Gibson, Keystone Lime Co. "Several times we have offered to buy him a new truck, but he always turns us down, opting to run the 'million mile Ford' one more year."
    Peck has the truck serviced with an oil change every 12,000 miles. The Super City dump box is original as well. It was made in nearby Somerset, Penn. He reports the engine was lightly overhauled at 450,000 miles and went through a major overhaul at 800,000 miles. The mountainous terrain has required two clutch replacements, and two transmission bearings have been replaced.
    "It still has the original block, crankshaft, rear end and fuel injector pump," he says. "I figure the fuel pump has had well over 200,000 gal. through it."
    This isn't the first high-miler Peck has driven in his 50 years of driving Ford trucks. He had two 500,000-mile trucks at Keystone, both of which were still going strong when he turned them over to other drivers. He has driven four trucks in 41 years at Keystone, all Fords.
    "When Melinda's father was boss, he wanted me to take a Chevy once, but I told him, 'You knew I was a Ford man when you hired me'," recalls Peck. "He was a Chevy man, but he bought a Ford for me."
    Peck has been good to his Fords. Gibson says even the paint job is original. "At 1,095,300 miles, the truck has never been in an accident," says Gibson.
    Peck credits his miles with the truck for its safety record. He recalls coming down a steep hill into a town and feeling that the steering wasn't quite right.
    "I pulled over, and the hub on one front wheel was broken," says Peck. "When you run a truck every day, it becomes familiar."
Gibson says Peck is nearing retirement. When he does, she expects to retire the truck too. Until he does, he remains the only driver.
    "The boss would never put another driver in my truck," says Peck. "I don't think anyone else has ever dumped a load off that truck. That makes a difference too."
    Contact: FARM SHOW Followup, Keystone Lime Co., P.O. Box 278, Springs, Penn. 15562 (ph 814 662-2711; info@keystonelime.com; www.keystonelime.com).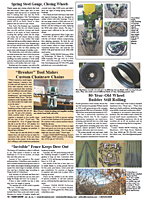 Click here to download page story appeared in.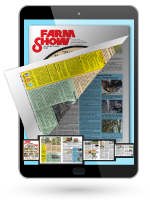 Click here to read entire issue