Farmer-Designed Press Turns Beans Into Oil, Feed
Why raise soybeans and sell them only to turn around and buy soybean meal to feed cattle and diesel to fuel tractors?
     That's what Ontario dairy farmers Jasmin Hofer and her father started asking themselves 8 years ago. Their solution was to work with machinists and engineers to design a cold screw press to process their beans. It paid for itself in less than two years of use at their 120-cow dairy. They now run Energrow Systems, manufacturing a pressing system that typically generates a 3-year payback with a 75-cow herd.
    "Our goal is to help farmers use more of their own farm grown crops, minimize purchased feed and fuel, and produce a more consistent feed, making more money for the farm," says Hofer.
    The Energrow System presses out oil and extrudes pellets for feed similar to other European presses, but Hofer notes there are significant differences.
    "Soybeans are the most common oilseeds pressed on farms in North America due to the feed value, but not in Europe, where rapeseed is most commonly grown and pressed," she explains. "Soybeans by nature are much more abrasive and harder on equipment, and the design and materials used to build Energrow Systems reflect this. Our system can also handle other oilseeds with some minor change of settings."
    The Energrow system is automated, with a touch screen controller and sensors and probes monitor running of the machine.
    "Our system comes ready to plug in and run. It has an auger control, so an auger is easily connected to automatically deliver beans," Hofer says. "The system also comes with a sedimentation tote to capture and settle out the oil, making filtering or further refining of the oil more efficient. The resulting pelleted meal can fall into a tote bag supported by removable arms or be integrated right into another kind of feeding system without totes."
    With a bin feeding the automated system, it can run 24/7 with no labor required, except making sure there are soybeans in the bin. A built-in panel heater allows Energrow to operate in cold, uninsulated conditions.
    The system can press just over 1 ton of seeds/day to produce about 21 gal. of oil and 2,000 lbs. of pellets. Electricity cost per ton is about $4.50 (based on 14 cents/kwh).
    As a dairy farmer, Hofer understands the details and issues important to farmers. Energrow works with customers to find grants for government programs in Canada and the U.S. to help pay for the system, which runs about $30,000. The company offers a 2-year warranty on electrical components and 5-year warranty on structural components. Plus they offer prompt support if there are any problems, and they can help customers market the oil they produce.
    "Energrow's customers are primarily dairy farmers looking to reduce their feed costs," Hofer says. "Some of our customers are also crop farmers looking for a value-added business opportunity."
    Check out the website for dealers. Dealer inquiries welcome.
    Contact: Energrow, 7389 Rd. 128, Newton, Ont., Canada N0K 1R0 (ph 519 595-8299; info@energrow.ca; www.energrow.ca).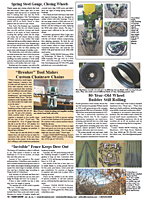 Click here to download page story appeared in.
To read the rest of this story, download this issue below or click
here
to register with your account number.