Shop-Built Tractor Saved Farmer $100,000
Canadian farmer Russell Turner needed some big power to work his 2,600 acres in the eastern part of Alberta. But he suffered "sticker shock" when he saw that what he needed would run him $140,000 to $150,000.
So he began accumulating parts. After four years of off-and-on work, he and his teenage sons finally put the finishing touches on "Big Butch," a 375-hp, 2WD tractor that's now been field tested through two seasons of use. His investment, besides labor, totalled only $50,000.
He is only one of a handful of farmers uncovered by FARM SHOW who have assembled a big-muscle tractor completely from scratch. "It was a dream of mine," he says. "When I was 19, Ibuilt a small 110-hp 4WD tractor, and I always dreamed of buildĦing a big 2WD. The tractor has lived up to expectations; in some respects I like it better than anything I could buy."
The tractor's powered by an engine salvaged from a wrecked insurance claim truck. It had a 375-hp Cummings diesel that had been overhauled.
The transmission in the truck was too light to use. He finally located an almost-new Spicer 1414, rated at 1,400 ft.-lb. and equipped with oil cooler. It has 14 gears forward and 3 in reverse.
The hardest part to find was the rear axle. He found a Clark 85,000-lb. planetary axle with a 22:1 ratio through a dealer in OklaĦhoma. While a used rear end of this type usually sells for about $15,000, he picked it up for $6,000. After locating the rear end, he began designing the frame. For the high-torque area over the rear axle he used 1-1/ 4in. thick plate. The plate, which runs from the back of the tractor to just ahead of the rear tires, transitions into 1/2 by 15-in. channel iron which forms the front end of the tractor.
He used the radiator out of the wrecked truck, but bought new parts for the hydraulic system, including a Cessna 26-gal. pump and valves. The hydraulic system is pressure compensating and load sensing for both tractor and implement. This means that when there is no load on the hydraulics, the system uses only about 2% of total horse-power. Turner notes that this is an advantage over the hydraulic systems on some 4WD tractors which can use up to 35 hp or more just for steering alone.
To get enough traction for the 375-hp tractor, which weighs 32,000 lbs., he used 20.8 x 42 radial triples on the rear. For the front he used 18 x 26 biasply lugged tires. Turner says he finds that having lugs on front help get more traction for steering.
To keep the six rear tires from getting too wide, Turner made the frame just 12-in. wide at the rear so the two inside rear tires could be positioned just 24 in. apart. This led to the design of a unique double-action drawbar which operates with only 9 in. of swing room within the frame. "Without the improved swing, the tractor tended to walk straight in the corners. It took awhile to design," Turner says, "but it solved the problem. Most people who see it in action can't believe how well it works."
Normally on a 2WD tractor the cab sits down between the tires. But, because the two inside rear tires are only 2 ft. apart, the cab on Big Butch is positioned above and ahead of the rear tires. Turner designed the cab for clear visibility all around, using safety glass from a local supplier. He positioned the roll bar at the center of the tractor and, to minimize obstructions, ran the exhaust pipe next to the roll bar on one side. The cab is isolated from the engine compartment with dead-air space and has a sand-filled frame to dampen vibration.
The cab's climate controls include a heater and an air conditioner. He mounted eight lights on top of the cab, and two halogen road lamps at the front of the tractor. The tractor could have been outfitted with a pto, but since he didn't need it, he saved some money by bypassing that option.
Big Butch is used primarily to pull tillage implements a 47-ft. field cultivator and a 64-ft. culti-weeder which has cultivator shovels ahead and a Leon rod weeder behind. The 64-ft. rig doesn't tax the tractor, and Turner says he doesn't need to shift down even going up hill. "Without a power shift transmission it was important to have an engine with good torque rise," he says. "That's why I used the cummings; it has excellent lugging power." While building the tractor Turner says he ran into some bottlenecks which made him stop and think, but that the biggest challenge was balancing the weight. "but I put it all together, find it up and everything worked fine, " he says. "i have never had a bit of trouble with it." After two seasons and 1,000 hours of use, he estimates the tractor will have a service life of 19 years or more. His next dream project? "if I were to build another, " he smiles, "I'd probably try a six-wheel-drive version with 450 hp or more. Maybe if farm prices improve I'll get to it eventually," Contact: FARM SHOW Followup, Russell s Turner. Box 57 Drumheller, Alberta, Canada T0J0Y0 (Ph. 403-823-9289)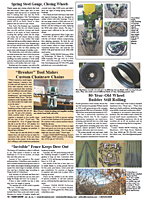 Click here to download page story appeared in.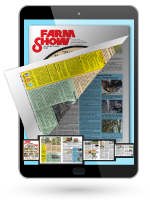 Click here to read entire issue
To read the rest of this story, download this issue below or click
here
to register with your account number.