Wind-Powered Air Compressor
Jeff Hoard has figured out how to use air to power his air compressor. With the help of a homemade windmill, he always has air pressure on hand to pump up tires or do a little sandblasting.
    "We never run out of air," says Hoard. "We are completely off the grid, and this type of system works really well in that situation. I've used the air pressure to clean spark plugs, paint, sand, and much more. The simplicity of it makes it virtually trouble free, and it requires no electricity or gas."
    Hoard's "system" consists of a salvaged 400-gal. propane tank, a worn out compressor pump, scrap from his salvage pile, and "sails" sewn by his wife Karen.
    The tank, which he got for $20, was his only out of pocket cost. Hoard notes that compressor pumps are "splash" lubricated, and if turning slowly in a light wind, lubrication is reduced.
    "A 'worn-out' pump is necessary," says Hoard. "It can handle that occasional lack of lubrication, and mine has worked for more than 10 years."
    The windmill arms consist of four 4-ft. lengths of 1/2-in. steel pipe welded perpendicular to a short length of pipe fabricated to serve as a hub. Hoard welded 12-in. stubs at right angles to the arms and close to the hub to anchor the wide end of the triangular sails.
    "Karen used a material called 'nylon weave' for the sails," says Hoard. "It's double-sided vinyl that's used for convertible car tops and holds up well to the elements."
    The hub is simply a short length of pipe threaded to match the compressor pump shaft. Virtually all compressor drive shafts are left hand threaded with a tapered shaft, noted Hoard. He designed his sails to turn counterclockwise to maintain tension on the threads.
    "The hub was sized to reach the shoulder on the shaft," says Hoard. "I welded a thick washer inside the hub to end up 1/16-in. from the end of the crankshaft."
    The washer allowed Hoard to install the crankshaft bolt in the end of the shaft. Tightened down against the washer, the bolt secures and centers the hub to the shaft.
    No fancy bearings were used. All pivot points outside the compressor are steel to steel. The compressor with its hub and wind vanes mounts to a steel plate. A 10-in. length of 1/2-in. pipe is butt welded to the bottom rear of the steel plate. It fits loosely for easy turning in a slightly larger steel pipe welded directly to the compressor tank. A plywood tail is attached to a length of steel pipe that is also welded to the steel plate.
    "A length of high pressure air hose runs from the compressor to the tank's check valve," says Hoard. "Occasionally, it has to be unwrapped."
    The hose, check valve, pop-off valve and air line coupler unit was salvaged from a high power compressor when Hoard and his wife went off grid. He attached it to the propane tank.
    "The 125 psi pop-off has blown many times," says Hoard. "Most of the time I keep the blades tied down because we don't really use a lot of air. However, when we need it, it's nice to have.»
    Hoard shares his creative scrounging ideas and projects on his DVD titled "Hillbilly Heaven" available on his website.
    Contact: FARM SHOW Followup, HM Ranch, HC 61, Box 6108, Austin, Nevada 89310 (hmranch@wildblue.net).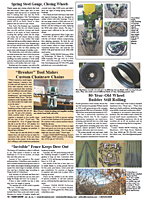 Click here to download page story appeared in.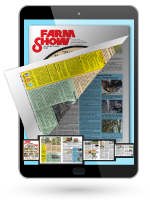 Click here to read entire issue
To read the rest of this story, download this issue below or click
here
to register with your account number.