Rare Holt Combine Restored To Working Condition
Bob Grimm of Rapid City, S. Dak., recently called FARM SHOW to tell us about the 1919 Holt self-propelled combine he rebuilt. It's one of only 3 Holt self-propelled combines in existence that's still in working condition.
The combine rides on tracks and is powered by a 4-cyl. gas engine mounted on front. It has a 28-ft. header and is made almost entirely out of wood except for the engine, gears, chains and frame.
"The Holt combine was the first practical self-propelled combine ever made. Some other self-propelled combines were built in the late 1800's, but they were only prototypes and were never put into production," says the 84-year-old Grimm.
"As far as I know, there are only six Holt combines in existence – one in Washington, two in Iowa, one in Kansas, one in Saskatoon, Canada, and mine. When these combines got to be nonfunctional, farmers stored them outside and they rotted down. The one in Washington and the one in Kansas and mine are the only ones still in working condition.
"It's a big piece of equipment – the combine weighs about 10 tons and the header another 2 tons. The only parts that aren't wood are the engine, gears, chains and frame. I've displayed the combine at fairgrounds and have cut grain with it in local fields."
"Ben Holt was a man of big ideas. He engineered and built some massive steam tractors for use in road construction farming and for hauling freight," says Grimm. "His factory was located in Stockton, Calif., and apparently heavy wheeled tractors in his area had difficulty getting bogged down and stuck in the fields.
"Holt didn't invent the 'track-type' tread design as we know it today, but realized it would make tractors much more functional if they had a track layer system rather than round wheels. So, he put tracks on his combine. In later years the Holt Manufacturing Co. moved to Peoria, Ill., and the Holt name was changed to Caterpillar."
Grimm says his combine was originally purchased in 1919 by Olie Olson of Harrisberg, Neb. "Olson was a big operator for his day. When most farmers were tilling and planting 250 to 300 acres, Olie was farming 2,000 or more acres. So he needed big harvesting equipment," says Grimm. The combine was built in Stockton, Calif., and shipped on a flat car by rail and by steam locomotion to Bushnel, Neb., where it was unloaded. "A man named Jim Snyder drove the combine across the country 19 miles from Bushnel to where the Olson fields were as there was no way to haul it," says Grimm. "The traveling speed of the combine is 2 9/10 mph in high gear and 1 3/4 mph in low gear. The combine had only 2 forward speeds and a reverse gear."
Grimm bought the combine from Arch Dougherty in 1985. "Arch was an antique farm machinery collector from Alliance, Neb., and had a large collection of single cylinder gas engines which my father and I were interested in," says Grimm. "He said the combine wasn't all there. The combine body was fairly complete but the header was missing. He had taken all the iron parts – chains, gear, shafts, etc – to the salvage yard as the header had all rotted away. He said the only thing left from the header was the sickle and guards, the big wheel that carries the platform, and the center pipe for the reel. I decided to get the combine anyway because it was so rare.
"I made a trip to Bard City, Kan., to an antique club that had a similar combine in working condition that had been donated to them. I took photos and some measurements and used them to build the new header and refinish what was necessary on the main combine. I spent one winter building the header and another winter rebuilding the combine. The engine was still in good shape but a lot of the interior of the combine had rotted out. I had to rebuild the radiator.
"The 28-ft. header is very unusual. I've never found another one listed anywhere. I can see there was a 4-ft. addition on the header that was factory-installed as on all the other Holt combines had 24-ft. heads or shorter. I think Mr. Olson must have made a special request at the time he ordered the combine because he was such a big operator."
Contact: FARM SHOW Followup, Bob Grimm, 128 St. Francis St., Rapid City, S. Dak. 57701 (ph 605 342-1976 or cell 605 389-1426).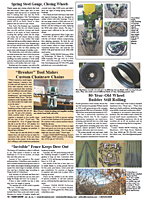 Click here to download page story appeared in.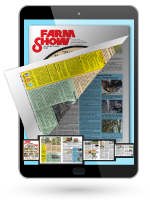 Click here to read entire issue
To read the rest of this story, download this issue below or click
here
to register with your account number.